Home » Health & Beauty | 550+ Informative Articles
Kopali Organics – Newest Health Snack for Travelers on the Go
/?php _e('Submitted by','colabsthemes');?> /?php the_author_posts_link(); ?> Published on June 10, 2009 – Twitter @fashionflu
One Comment |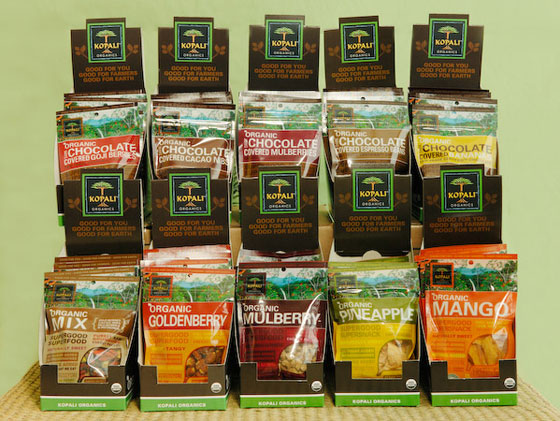 It's no secret that whether traveling for business or pleasure, being on-the-go can often wreak havoc on your health and diet. And with the elimination of free snacks on airplanes, and hotel lobbies packed to the brim with unhealthy munchies like candy bars and potato chips, what's a traveler to do?
For the health-and environmentally-conscious, Kopali Organics comes to the rescue. Offering a line of organic and fair trade superfood superfoods, their dried fruits and fruit-and-nut mix are vitamin-packed and naturally delicious. Kopali's dried fruits also come in five dark chocolate-covered verities to satisfy any kid's sweet tooth, while also providing key nutrients and a healthy snack.
What better way for globe-trotters and tourists alike to stay in gear while traveling away from home? Toting one of these snacks in a carry-on for an in-flight treat, or packing extra in the suitcase to curb hunger and satisfy cravings while on the road, Kopali Organics is the perfect solution for the traveler on-the-go. All products are certified organic and healthy for the environment, too.
Pick up your own snack bags of Kopali Organics at KopaliOrganics.com.
Tags:
Kopali Organics