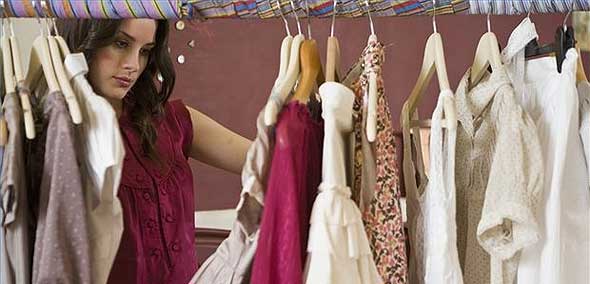 Fashions come and go and personal preferences will obviously rule in your closet. But there are some classic items that no woman should be without. Here are ten pieces of clothing that every woman needs in her wardrobe rotation:
1. Mid-length camel trench coat. Burberry's camel trenches are probably the most famous, for a reason: they're timeless, never go out of style, and go with everything in your wardrobe.
2. Fitted black blazer. It's not just for work: wear it on the weekend or use it to top off a polished evening dress (celebs like Alexa Chung and Jennifer Aniston have worked this style on the red carpet).
3. A great pair of jeans. Figure out the style that works for your body, be it fitted, skinny, whatever. Then buy that style in a classic dark wash and wear to death.
4. A white button-down. What can't this shirt do? Well, it can't iron itself.
5. A well-made pair of nude pumps. You need look no further than everyone's favorite royal Kate Middleton to understand the power of a pair of round-toe, mid heel nude pumps. She wears them with almost every outfit in her closet, and we wouldn't be surprised if she owns multiple pairs of the same shoe.
6. A black pencil skirt. It's classic and versatile; make it work appropriate or make it sexy with different tops and shoes.
7. A perfectly cut t-shirt in a dozen colors. When you find that perfectly soft, perfectly cut t-shirt, stock up in addition to basic black and white, buy all the colors you love, in short and long sleeves.
8. A black string bikini. It's flattering on everyone and never goes out of style. And after all, shouldn't the beach be about relaxing, not worrying about your wardrobe?
9. A really nice day dress. Not a sun dress, not clubwear, not a glittery black evening number. Something that can be made dressy or casual, in a flattering fit and color (or neutral) that you love. You'll wear it again and again, to parties, weddings, job interviews, and dinner with the in-laws.
10. A lacy black bra. Enough said!
Related posts: