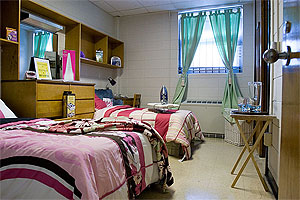 It may only be July, but parents and students everywhere are already looking ahead to Back to College season. Sure, you already know you'll need things like a shower caddy and your iPod, but there are other dorm essentials that you may not have thought to add to your list. Here are a few picks to get you started!
1. Foam mattress pad. Dorm room mattresses can be lumpy and uncomfortable, so treat yourself to this cushy extra.
2. Twin XL bedding. The standard dorm size, so don't come with regular bedding, or you'll have to run back to the store in the middle of move-in day.
3. Water filtration pitcher. Tap water in some areas can taste "off", and bottled water is just too expensive!
4. Coffee pot with auto shut-off. Most dorms won't allow appliances without this feature, due to the fire hazard.
5. Bed risers. If you don't opt to turn your bed into a loft (a great way to gain extra space for a mini-fridge, dresser, etc.), at least bring bed risers. That extra several inches gives you space for under-the-bed totes to store extra clothes, books, etc.
6. Collapsible anything. Pop-up laundry hampers, folding papasan chairs, collapsible drying racks–all can be tucked away when not in use, as opposed to their traditional, bulkier counterparts.
7. Fabric freshener. Odors get trapped in furniture, curtains, etc., so an air freshener isn't enough.
8. Personal fan. Remember, AC is a luxury, so a small fan by your bed or on your desk can make all the difference in the world on a warm day.
9. Mini or stick vacuum. Easy to clean up, easy to store.
10. Cork board. We may live in the digital age, but you're bound to wind up with bits of paper floating around reminders of deadlines, phone numbers, receipts, library slips, etc. Tack them all up in plain view so you won't lose them or forget anything important!