Weekends are the best! We finally get some time off, and get to wear whatever we want. Enough with the high heels and pencil skirts, let's talk weekend wear! The truth is, we're so exhausted after a long week's work, that we get sometimes super lazy. Sometimes, we don't feel like dressing up at all. The solution? Couldn't be simpler. An outfit that's easy to put together, but still looks cool. Kind of like these two looks we picked, and think you might enjoy wearing. They're both casual and quite perfect for the weekend, whatever you may decide to be doing:
Jeans – Sweatshirt – Flats – Sunglasses – Bracelet – Earrings – Bag
First off is the super-comfortable-yet-cool look. Nothing says comfort like a pair of boyfriend jeans and a sweater. But it gets interesting when the jeans feature rips and patches, and the sweatshirt features the season's trendy embellishments. And while boyfriend jeans may look boring with sneakers, they look chic with a pair of pointy flats! Extra points if they come in a sweet print like polka dots and a bright color like red. You'll also want a pop of color when it comes to your sunglasses, so pick fun, printed ones, and let them replace your makeup altogether. Accessorize with simple, but sweet jewelry, such as charm earrings and a tube bracelet, and carry all your essentials in a neutral but pretty messenger bag. See? You're comfortable and you look good in just 5 minutes.
Jeans – Top – Sneakers – Sunglasses – Bag – Ring
If you're more on the sporty side, then this outfit is for you! Have all the comfort of sportswear with all the style of an urban girl! Start out with the champions of all comfortable pants – the jeggings – and pair them with a casual top featuring a feminine print (e.g. floral, polka dot, lace). Keep a cool look with trendy wedge sneakers and opt for aviator sunglasses to go with the rest of the outfit. A crossbody canvas bag will be easy to carry and lightweight, but your accent piece will be your ring: make it cute and it will be a conversation starter!
About Author: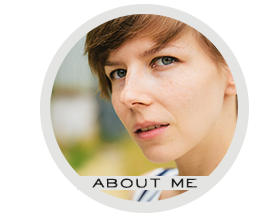 Daria is a fashion enthusiast with a soft spot for vintage style and cats. She also blogs at CelebritySunglassesWatcher.com