There were tons of amazing fashion ideas to glean from the 2013 Grammys Awards red carpet, and while a floor-length gown and a pack of paparazzi might not be in your immediate future, that doesn't mean you can't steal these style tricks for your next big night out! Here are a few of the key trends we saw on Sunday night and how you can incorporate them into your own look.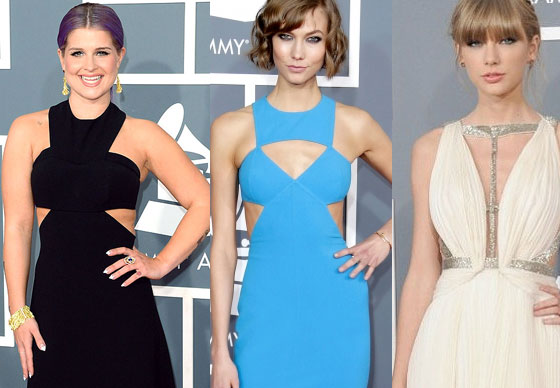 Cutouts. Stars like Karlie Kloss, Kelly Osbourne and Taylor Swift all rocked dresses with tasteful cutouts, which show a little bit of skin without flashing too much. Cutouts are just as chic on a short dress or even a blouse paired with jeans. One of the most important things to remember is a convertible bra: the sexy peek of skin will be ruined if a part of your bra strap or band is visible, so invest in one that swoops low, can be backless or strapless, and is a close match for your skin tone (just in case a slip happens!).
Sheer panels. Rihanna rocked an unusually subdued Alaia gown on Sunday night, but she kept it slightly sexy with sheer panels on the bodice. Sheer paneling is a great way to add a little sexiness without showing a whole lot of skin and as an added bonus, you won't freeze! Look for a dress with a sheer back or a blouse with a sheer panel in the top. As with cutouts: a convertible bra is essential. And test the item in the dressing room to be sure it won't slip and expose you by accident!
Graphic prints. Beyonce rocked a graphic printed black and white pantsuit, while her former Destiny's Child bandmate Kelly Rowland brought the va-va-voom in a black gown with graphic sheer panels (combining two trends at once). A graphic black and white print looks great with a strong red lip and minimal accessories: let the design speak for itself. And if you choose a pantsuit, follow Bey's lead and wear your highest heels to keep it firmly feminine.
Non-traditional florals. It's almost spring, so we're seeing lots of florals; but what about some winter-appropriate florals in the meantime? Adele rocked red applique florals on her dress while Ashanti chose a black gown with a minimal multi-colored floral print. Both ladies showed that in the right shades, florals can be a huge do even when the flowers aren't actually blooming outside.
Red or nude lips. Okay, this is a beauty trend, not a fashion trend. But the red carpet was firmly divided between very minimal nude lips and fiery red ones. In other words, go bold or go bare, but definitely don't go halfway!
A little bit of quirk! Kimbra wowed in a flouncy fairy-esqe creation from Aussie designer Jamie Lee, while Florence Welch arrived in a custom-made a dinosaur inspired green gown that was custom made by Givenchy. The lesson: have fun! There's no need to stick to boring black. So if sequins, ruffles, layers of lace or some other quirky detail is calling your name, embrace it: you'll be right in vogue!
Related posts: