Whether you're planning a relaxing day at the beach or a shopping trip in the city, having the perfect pair of sunglasses can turn a good day into a great one. With the sunny days of summer on the way, having the perfect pair of men's sunglasses will give you the perfect look for this year's season of sun, warmth, and outdoor life.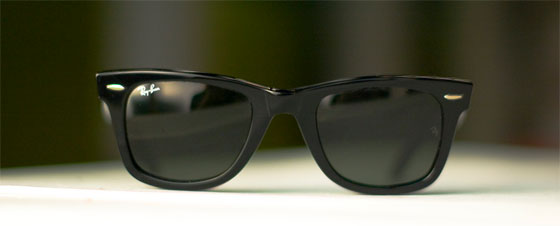 These three pairs of men's designer sunglasses are ideal for relaxing poolside and enjoying the summer sun. From retro styling to modern masterpieces, read on and discover 2013's best men's summer sunglasses.
1. Gucci Black and Havana Plastic Aviators
Most people associate aviator sunglasses with thin metal frames. Not Gucci. These stylish sunglasses take the classic aviator design and throw it on its head by using thick, plastic framing that's typically seen on Wayfarer-style sunglasses.
With their classic shape and modern twist, Gucci's Black and Havana Plastic Aviators look equal parts Miami drug lord and 1980s corporate raider. Match with a contrast collar polo shirt and linen trousers for the ultimate 'Wall Street on holiday' look.
2. Ray Ban New Wayfarer Square Acetate
Ray Ban's Wayfarers are one of the most enduring fashion designs of all time. A hit in the late 1950s and early 1960s, these classic sunglasses have been worn by political leaders, rock stars, and the film industry's leading men.
The latest take on the age-old design is the New Wayfarer – a modern, streamlined version of the classic shades. Enjoy classic style with a modern twist with Ray Ban's latest innovation in summer sunglasses.
3. Christian Dior Aviator Signature Sunglasses
While these Christian Dior sunglasses have the aviator name attached, they're a far cry from the mirrored sunglasses most of us associated with mid-80s fashion. Equal parts Terminator and grunge, these black, brushed steel sunglasses are stylish and imposing at the same time.
While they'd look ridiculous paired with a business suit or formal outfit, wear these classic summer sunglasses with a black tee, jeans, and leather boots and you'll have no trouble making heads turn in your direction.
Related posts: