Thinking about the summer holidays already? They'll creep up on you before you know it, so rather than rushing around at the last minute, trying to find the right clothes for your trip, why not get your holiday wardrobe sorted now! We can help, with five essential women's tops for holiday style.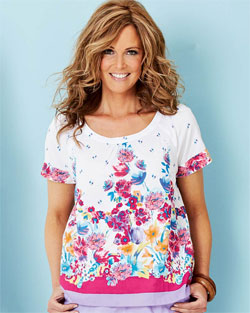 Let's start with tunics. These have been a fashion staple for several seasons and show no sign of losing popularity. That's because they are easy to wear, come in a variety of styles, colours, fabrics and patterns and are always flattering. Tunics are also great for layering, and work well with womens chinos, jeans, shorts, skirts, leggings and tailored trousers making them incredibly versatile. This season, try short-sleeved, cowl neck tunics in bright colours, or fresh linen tunics with applique designs.
T-shirts are a summer staple, and are brilliant for casual days out, layering under sheer layers or just throwing on to head to the beach or out for a walk. Choose 100% cotton for breathable, comfortable wear, and take the time to look at the styles available. In addition to the standard round-necked tee, you can also get soft V-neck styles, full sleeves and three-quarter sleeves, giving you the opportunity to dress your t-shirt up if you need to.
For colour, pattern and a bit more tailoring, choose a seersucker blouse. These bright, cheerful checks look great when worn with denim shorts, jeans or a simple skirt, and you can find designs with extra details such as cuff gathering, contrast collar lining and shaped hems, all of which help you to stand out from the crowd.
You might think that polo shirts are for men, but women's styles are incredibly popular, and help to add a smart look to a casual outfit. Available in a range of colours and with tailoring that make them a flattering choice, polo shirts are great with tailored shorts or chinos and women's boat shoes.
And finally, summer wouldn't be summer without swimwear for women. Whether it's a traditional bikini or any other design, these are great for helping you to look great whilst still staying cool, and perfect for layering underneath tunics, dresses or colourful summer skirts.
You can buy all these tops online or on the high street now, as retailers have all their summer collections out in stores and ready to buy. Save yourself the hassle of last-minute holiday shopping and get started today!
Related posts: