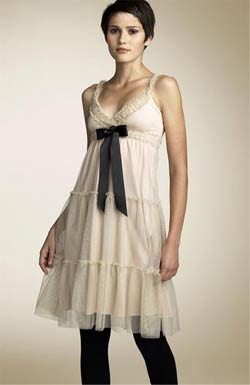 Are you standing in front of your closet saying, "I don't know what to wear today"? Get dressed in style by trying on one of these five hot fall fashion trends.
1. Lace. Yes, the trend that was all over the spring/summer fashion scene is translating into the fall fashion scene as well. There's a twist, though: this season, lace is not delicate and pastel, it's edgy. Look for it in dark colors and paired with interesting textures like leather, knits, corduroy, or velvet for the most on-trend interpretation. And if you're wearing lacy clothes, remember a nude slip; you don't want any peekaboo moments!
2. Edgy accessories. It's the season of the moto jacket… and the moto boot… and, well, every other edgy accessory you might want to pile on. Fashion houses like Rag & Bone and Calvin Klein went for a very dark and edgy look this season, mixing edgy and polished pieces for a look that's seriously stylish and never grungy.
3. Oxblood. Also known as burgundy or wine, this color is the "It" color of fall 2012 and is everywhere from cosmetics to clothing to accessories. It looks great with neutrals like camel, dove grey, or black, but you can also punch it up alongside other colors if you're really feeling daring.
4. A floppy hat. A total it-girl accessory, thanks to celebs like Alexa Chung, a floppy, wide brimmed fedora is a must have accessory this season. Pair with pants and skirts alike.
5. Baroque influences. Ornate, overblown, even gaudy design is everywhere this fall, and it's got a global touch: Asia was the inspiration for loads of ornately detailed clothing, shoes, jewelry, handbags, and more in many fall collections. Look for ornate details and luxurious fabrics, but pair these lovely pieces with more modern pieces for a look that's up to date, not costumey.
Related posts: