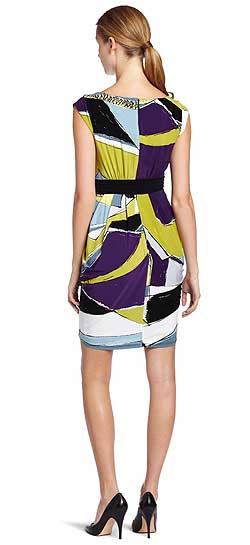 When the temperatures hit their peak mid-summer, it can be tricky to strike a good balance between your summery clothes and your work wardrobe. Many offices have dress codes that forbid anything too casual or revealing, but that doesn't mean you have to wear the same drab ensemble every day of the year.
Read up on your office dress code policy so you know what is and isn't permissible, then try one of these ideas for making your work wardrobe a little more warm-weather friendly.
Idea #1: Play with color. A pop of a summery hue like turquoise or tangerine on a blouse, bag, or bracelet will instantly perk up even a basic office outfit.
Idea #2: Switch up your neutrals. Black, brown, and navy are fine in the colder months, but they can seem too harsh during the summer months. Cream and khaki are much more becoming, especially with the bright hues you might be working into your wardrobe this time of year.
Idea #3: Layer! Got a chic strapless dress that would be acceptable at the office except for, you know, the fact that it's strapless? Layer it over a cute tee or blouse for coverage. The same goes for strappy dresses or those with slightly-too-low necklines.
Idea #4: Embrace new silhouettes. Retire the pencil skirt and try out looser, airier styles that give you a little breathing room in warm weather. A-line dresses, fuller skirts, and paper-thin blouses and cardigans offer a chic, professional look that won't leave you feeling stifled.
Idea #5: Use your accessories. Even if you don't have a lot of wiggle room with your outfit, you can probably get away with some summery jewelry, a cute hair clip, a bright bag or shoes…you get the idea!