Having your own personal bar at home is a dream for most people. It was one for me too. So when I finally decided to get my own place with my dear old husband, we naturally kept the bar in mind.
Decking up your new place can be quite an experience and as fun as it can be, it is also pretty draining. I obviously had a lot of researching to do, visiting shops and in general a lot of hassle to find the right furniture that would satisfy my fashion tastes and be below the budget line. When it came to the home bar I had so longed for, I wanted it be better than just any old bar. So I set out on a long, slow and tiring web search.
First I needed to decide on what I actually wanted or rather needed to make my home bar "THE BAR". I finally figured that there were 5 things that I absolutely needed to have or my home bar would just be a counter where I kept the alcohol.
The countertop/table:
The first thing I decided I needed was a counter top or a table, preferably not too big, something I could set up at the side of the room. So I set myself researching. I came across a lot of stuff, second hand and brand new, but nothing seemed to call out to me. Then I finally came across a site that had exactly what I was looking for. It was a cabinet cum table that I could store my wine bottles and glasses etc. in and sit around drinking as well. It was the perfect thing.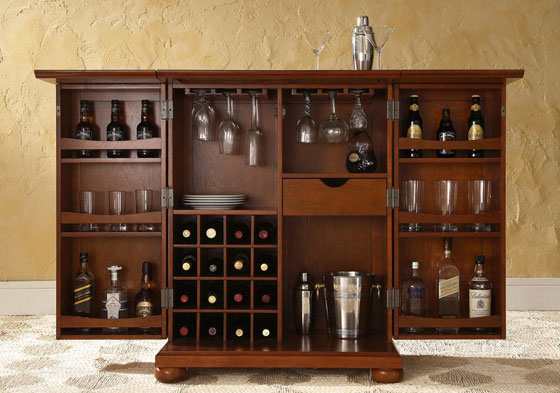 (Oh and by the way if you're wondering what site finally captured my attention then let me sate your curiosity; it was http://www.diningshowroom.com/home-bars/. I have found amazing deals here on countless occasions.)
The chairs:
I personally believe that without high chairs no bar is complete. So, of course, I went out in search for them or rather went online to search for them. I came across a lot of different bar stools, high back chairs etc. and finally the same site (that I mentioned above) presented to me what I was looking for. I went for the simple semi modern look but there are a lot of options out there if you are looking for something different.
Shelves:
Next I decided that what would make my home bar stand out was some glass shelves right behind and a little above the countertop. This was purely for show off reasons, if you get my gist. I put up my fancy wine glasses and the most expensive wine and alcohol I had and a couple scented candles to give it a nice look. This gave it the feel that I had a cool bar from out of town right in the living room.
Shakers:
Next I went and got myself a couple shakers. This was so that when I was entertaining I could give off a feel of being at a real bar somewhere downtown. It actually had quite the effect on my guests. They loved the whole shaker idea and thought the drinks tasted much better because of it (though I hadn't done anything special at all).
Art:
The last thing to do is get some artwork around the bar. Get a nice painting near the bar or maybe play around with the lighting at that spot. Just spice it up a bit. I got a couple of paintings I hung up on either side of the bar and I got pot lights installed so I could light it up on occasion. This really set the mood for my home bar.
Having your own personal bar at home can surely spruce up your living area and give it quite the "it" factor. I love having my own home bar and whether it's just me and my hubby or I have friends over, it has turned out to be quite the hang out for us.