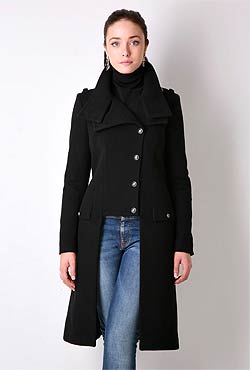 You might not really want to start thinking about winter yet, but hey, if you get to think about all of the winter fashion, that's not so bad, right? Here are five winter coat trends that will be big for the winter 2012-13 season.
1. Peplum coats. Yes, the peplum trend is strong on outerwear, too, and it's a great way to add curves if you're very petite. Just make sure the coat is quite fitted, or else the shape will be distorted and can visually add pounds to your frame.
2. Military. Military coats are almost always stylish, but the trend is strong again this year in part thanks to Kate Middleton's military coats. Navy and black are the classic options, but other colors are good too as long as you stick to a classic shape and classic hardware. Wear these coats with feminine extras like cap toe pumps or a bright handbag to avoid looking androgynous.
3. Colorful. Who says winter has to be blah and black? A punchy hue like marigold, poppy, or emerald will make even the dullest winter day look a little brighter. Try a coat in a classic style, like a hip-length peacoat, or go super-trendy with a current favorite style like a moto jacket.
4. Moto jackets. Speaking of which, this style works in the winter months, too. Look for a style with a lining and knit cuffs to keep you cozy, as opposed to the thinner, lighter styles that you might wear during the early fall months. Pair it with a cozy scarf and it can add edge and fun to any winter outfit.
5. Car coats. This old school staple is making a comeback, but you have to know the tricks to wearing it properly. Look for a shape that's cut to swing and spin when you move, rather than being shapeless. And wear it with dainty, feminine pieces, like skinny pants, nice shoes, and lovely earrings, so you don't just look like a shapeless blob!