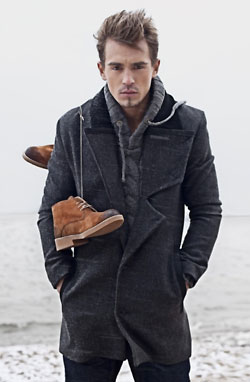 It's scary how quickly the time flies. As we see the first leaves of autumn begin to fall, summer already seems like a distant memory. But don't despair: a new season requires a new wardrobe. It's time to pack away those shorts and stock up on this year's autumn essentials.
Shoes
A pair of Grenson brogues is the best place to start for nailing the basics. The tan and pine shades of brown perfectly accompany the fallen leaves they'll be crunching through. Pair these with a darker pair of Raw Denim jeans and you're making good progress.
Trousers
The versatility of denim jeans allows you to work with a variety of hues and shades to create a number of potential outfits. Find a fitted pair that are also comfortable, they're going to be well worn in by the end of this month!
Even if the cold nights are creeping in, that doesn't mean you should neglect those chinos. Autumn shades of crimson, sage and brown are good staples but if you really want to fend off those winter blues, experiment with an eye-catching hue.
A chunky cardigan
Don't be mistaken: now isn't the time to break out that garish knitted Christmas jumper. A comfy cardigan is an excellent middle ground that will keep you warm on those brisk autumn walks in the country. They match almost anything and are perfect for adding extra layers to your look. Paul Smith have some excellent cardigans to keep you snug.
Shirts
Breaking out the casual chequered shirt will give you a number of outfit options this autumn. Stick with earthy hues and alternate between two or three different shirts. Layer minimal shades of grey or brown underneath if you prefer the open-button look. Rolling up those long sleeves is an excellent way to showcase any wrist accessories.
Watch
A rugged season deserves a rugged watch, but you won't have to give your bank account a heart attack by putting down a deposit on a Rolex. Go for something that's unapologetically bulky and mountainous. Real brown leather is the ticket to lifting your look to the next level. Fossil has an excellent selection of watches you may be looking for.
Socks
Hot off the press: autumn is the season for stripes. If you've already gone for a minimal look everywhere else, this is your opportunity to jazz it up. A splash of colour around the ankles is just what the fashion doctor ordered. Red, blue, green, purple, all will work. But remember our warning. It isn't Christmas yet; leave those reindeer socks in the draw!