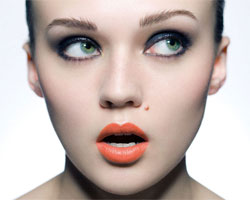 If you're looking for a bold new departure from your usual makeup routine, then you're in luck: one of the hottest makeup trends for summer 2011 involves neon lips colors like watermelon pink and bright orange.
Fuschia, coral, hot pink, and chili red are all hot for summer, and they're easier to wear than you might think. The newest incarnations of these colors are meant for every skin tone, and you can choose from different color formulas, from glosses to lipsticks, to control the intensity of your color result.
If you're nervous about experimenting with such bold color choices, start with a sheer gloss, which gives you a light pop of color and shine. It's a less heady way to try out a new lip color for the first time.
If you want to take the plunge into high-impact color, look for a matte lipstick, the hippest new way to wear bold color. If you can't find a matte lipstick in the shade you want, you can get a similar effect by lining and filling in lips with a boldly hued lip pencil.
If you're worried about your hot new lipcolor melting away in the summer heat, look for a lipstain, which traditionally gives long-wearing color with a matte finish. As an added bonus, lipstains won't rub off while you're eating and drinking, so they're great for a summer picnic!
Since your bold lips will draw enough attention all by themselves, keep the rest of your makeup simple; a little basic eyeliner and mascara and a natural-toned blush or bronzer should be all you need to complete your look.
If you're really feeling experimental, take this trend one step further by adding boldly hued nails, another big trend for summer 2011! Try different color combinations – yellow with pink lips, turquoise with coral to see what works best for you.
Related posts: