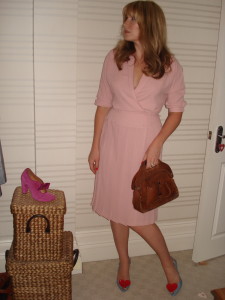 My wonderful mother turns 61 this thursday, so instead of the usual BBQ at our house, I decided to take her somewhere really special, I took her to see Rufus Wainwrights debut Opera 'Prima Donna'. I guess you could say it was a selfish good deed… in the sense that my mum absolutely loved it, however it is me that is the massive Rufus Wainwright fan to the point that I named our family dog after him… a compliment, as we really do love the big, clumsy, mutt that is Rufus (the dog, not the man!)
I wore a vintage 40's salmon pink button over dress. Which I picked up from a vintage store a few years ago. I teamed it with my baby blue with pink heart, Vivienne Westward jelly shoes and a lovely vintage brown holding satchel that my friend got me for my 19th birthday.
Looking the part my mother and I took our seats and as usual the talk turned to what people were wearing and how it is a shame that people no longer dress up for the Opera, like they used to… just as I was saying this, a man walked in to the theatre wearing a top hat, complete with septa, and the most beautiful pink floral patterned jacket decorated with broaches.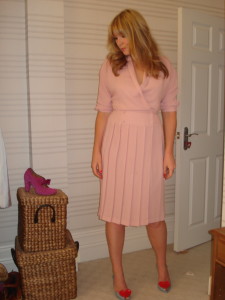 He proceeded to walk right over to us and after spending a few moments looking for his seat he sat directly in front of us just two rows down…I turned to my mum and said 'look now see, he looks the part… oh my god… it's him… it's Rufus Wainwright!!' I couldn't believe it, I am not one to be star struck but for me this was quite a sighting, this man is not just a musician, he's an artist, he talks to you through song, he's a creative force and a contributer… and he was sitting in the audience at his own Opera just two rows down?!
My god he looked delicious, utterly eccentric, yet kitsch and classic all at the same time. As I sat gazing at the back of his head I was almost horrified when my mothers head came into my eye line. She was stood talking to bloody Wainwright! 'Sorry to interrupt Rufus, but I bet you've
never had this said to you before… we named our dog after you!! (thank god she didn't show him a picture of the big bumbling mutt!) 'Oh my God' shrieked Rufus, 'Thats fabulous'…
Bless him for being so kind I am sure deep down he was as horrified and scarred as me!
His Opera was as wonderful as he, and as the lead diva sang the line 'I give you my autograph, my last act as an artist', I felt glad we never asked him to sign a crummy piece of paper or the lid to the box of our minstrels… him sitting in the audience showed he's just a normal man trying to live his life… as I dropped my mum home, I saw an excited tale wagging through the reflection of the glass door, we have Rufus the dog but at least I can say I met Rufus the man!
Related posts: