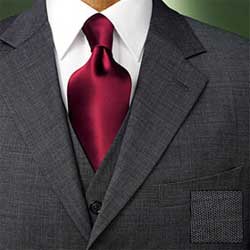 Ever opened a wedding invitation and found yourself completely stumped over the dress code? If all of the different cryptic phrases "black tie", "beach formal" have you feeling flustered, don't panic! Here's your quickie guide to some of the most common dress codes and what they mean.
1. White tie: the rarest and most formal of all, this is your chance to live out your Oscars night fantasy in a formal ball gown and your highest heels. There's no way to be overdressed here!
2. Black tie: Also marked as "formal", "creative black tie", or some other such variation, this is the most common designation on fancy weddings. It's slightly less dressed-up than a white tie wedding, but the men will still be in tuxes, so you still have an excuse to break out a fabulous dress and heels.
3. Semi-formal: Also sometimes marked as the confusing "dressy-casual", this just translates in plain English to "nicer than what you'd wear the rest of the time". You could get away with wearing a nice skirt and top as opposed to a formal dress, if you wanted.
4. Cocktail: You might also see this marked as "formal daytime". It's basically just "formal", minus the traditionally "evening" touches like long gowns, dark colors, and sequins. Nice prints and less dressy fabrics are acceptable.
5. Beach formal: A formal wedding in an exotic locale will call for your dressiest attire that also jives with the elements; for example, on a beach, you might wear a formal sundress with flat dressy sandals and slightly casual hair and makeup.
6. Festive: This definitely translates to "party clothes", but you'll want to check with the wedding party for details, since it can vary based on the venue, season, and wedding theme! This is often noted for winter weddings with a sort of winter wonderland theme.
7. Casual: This doesn't mean "anything goes", so put away those short-shorts and tank tops. A casual dress or dressy separates and casual hair and makeup will be appropriate for almost any casual wedding.
Related posts: