Updating your wardrobe for autumn / winter is a great way to stay on trend and stop you feeling out of kilter with the season's change. The coming of the colder months however, does not spell the end of the dress season. Dresses can be fabulous in warmer textures and fabrics which are great for the colder months. Here's my collection for autumn / winter that will make you feel like you're wrapped up in luxury – one for each day of the week!
Monday – Head into work at the start of the week with a Sisley dress that will turn heads. I love the high necked, bishop sleeve dress with delicate cuffs; the long sheer sleeves mean that you can avoid wearing a cardigan. It has a lush red leaf print on black, perfect for the autumnal months. It is inspired by a similar collection at Felder seen at London fashion week earlier in the year.
Tuesday – For the second day of your winter dress wardrobe, why not take a look at Fornaria's Virginia Jersey dress. Black with three quarter length sleeves, side panelling and a 1950's cut, it is very flattering. It has cute little pockets, just beneath a thin patent leather belt, to add definition to your shape. It would look smart in an office environment or sassy at cocktails.
Wednesday – Midweek, I can't get enough of Vera Moda. The STRIBY Jersey dress with its elegant crisscross panelling, long sleeves and slashed neckline is a little more daring for work, but would still look fantastic in almost any setting in rich royal blue. This dress is my personal favourite.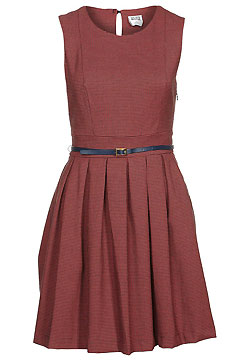 Thursday – Continuing with the Vera Moda collection, the IDA cocktail dress is sleeveless with a gathered pleated waistline. It looks gorgeous in red, black or grey. This, when teamed with a cardigan and mules, could be taken from client meetings to cocktails with the application of lipstick. In red, it comes with diminutive ribbing; in grey and black it comes with tiny checks – oh which style to choose?
Friday – The working week is over! Head out in this figure hugging sleeveless dress from the Lipsy range, available at Zalando. The Jersey Lipsy London dress comes in black; the mesh detail with iconic black sequins around the neckline really make this dress stand out. A pair of glittery heels would make you good to go to any party or club setting.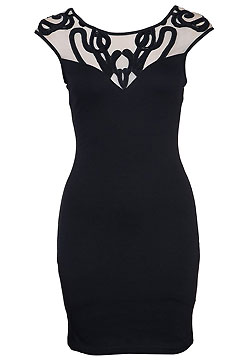 Saturday – The aptly named SATURDAY jumper dress from House of Wild comes in a soft grey knit, long sleeves and crochet detail. It is has a casual style that needs a great pair of boots to really pull it off. I would opt for chunky studded flats.
Sunday – On the day of rest, retire from power dressing with a floaty Mexx dress. It comes in a beautiful sheer material with a delicate floral and leaf motif. The buttons down the front are set off by a pleat detail that is so subtle it would flatter any size chest.
So there you have, it don't be out of kilter with the seasons a great winter dress for each day of the week, to keep you on trend with the change in weather! Now just for accessories…