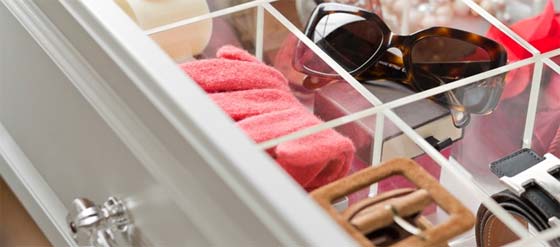 Just because you're bored with your wardrobe doesn't mean you have to spend a fortune buying all new items in hopes of rekindling your fashion flame. There are lots of little things you can do either with items you currently own, or which are super cheap to obtain, that will make your look pop in new ways. Using accessories in unexpected ways to spice up your wardrobe is a secret all the trend-setters know about, and now you will too.
Scarves and Belts
Scarves are a fantastic accessory all year round. Changing the color or texture of a scarf can drastically change the style of your look. There are endless ways to wear your scarves. Check out this great little video for 25 different ways to wear them. You can also use your scarves in new ways that don't involve your neck. Consider using one as a belt to update the look of your unadorned jeans. Loop a scarf through the belt loops or simply tie one around your waist for a hip new look. You can also wear a wider scarf as a shawl instead of wearing a jacket on a chilly night to change your look, or tie a smaller one around the base of your ponytail for a charming, retro look. Never underestimate the power of a scarf!
Wear vintage men's neckties as belts for a trendy pop of textile and design. That's right – a men's necktie. Just shimmy the tie through the belt loops of your jeans or pants as you would with any belt. Thrift stores sell vintage neckties in interesting patterns, colors and textures for very cheap.
Buttons and Bracelets
Take those spare buttons you have stockpiled in your drawer and turn them into jewelry. String them randomly together to make a one-of-a-kind necklace or bracelet. Visit a craft store for a hot glue gun and some earring stems to make your own button earrings from your favorites of the spare buttons.
Speaking of buttons, consider buying interesting new buttons and changing out the buttons on some of your shirts or jackets. Buttons are one of those things that you don't notice unless they're interesting. Switching up your black sweater's ordinary dark buttons for ones with a bright, neon hue will undoubtedly make this conventional cover up pop. Adding just one interesting button to a dress shirt turns your shirt into a conversation piece rather than just a run of the mill blouse.
Head to Toe
Do you have any necklaces you don't wear much anymore? Consider wearing them as headbands. This look works best with your non-chain necklaces as you will get more flexibility and knot-ability from them. Just unclasp the necklace and wrap it around your head as you would a normal headband. Tie the ends together in a secure knot underneath your hair to hide the clasps. Make sure the charm or focal point of the necklace remains somewhere around the sides or top of your head.
Don't overlook your feet. Wearing patterned, colorful socks or stockings will give your timeless little black dress a contemporary edge, completely changing the tone of your entire look. Adults tend to forgo the fun socks for basic blacks or whites, and the colored stockings for sheer or black. There are lots of interesting patterns and colors out there that will add unique character to your outfit without making you look like you're stuck in your childhood. Consider an argyle sock pattern, or a dark brighter blue stocking for a unique but still professional and conservative look; American Apparel offers a particularly fun range of patterns and colors.
Organize Your Clothes and Accessories
Ever open up your closet (that is bursting at the seams) and declare that you have "nothing to wear"? Most likely, there are plenty of garments that lay forgotten, shielded from sight by other outfits. To rediscover these pieces and fall in love all over again, occasionally reorganize your closet to make sure that those shirts or dresses that are out front are the ones that are most seasonably appropriate and rotating those inappropriate pieces into storage. An affordable way to make sure that none of your jewelry gets buried is to make or buy a jewelry organizer like the ones at Taylor Gifts that has plenty of compartments and hooks so you can have increased visibility of all your pieces and simply not those that are on the top of the tangled mess. When everything has a place and can be easily accessed, you may be pleasantly surprised by how many fun accessories and clothes you have and no longer feel the need to splurge on new things.
So, when it comes to jazzing up your wardrobe, remember that a little can go a long way, and that the greatest tool at your fingertips is your creativity!
Related posts: