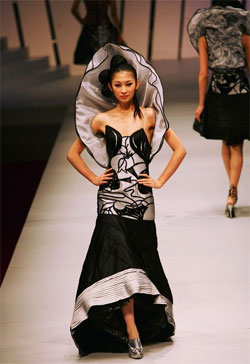 Hardly a month has lapsed, since the dawn of 2009. As per the adage, "Ever-changing is the unchangeable law", apparel segment is not an exemption. Whether or not, we are conscious about the fact, our everyday decision of what to wear depends to a considerable extent on the current apparel trends. Generally two basic facts fuel the change in apparel trends; novelty and conformity. Everyone likes to wear something new, and simultaneously, many of us like to keep pace with our traditional attires as well. While there is no crystal ball to have an appropriate forecast, runways, and ramp shows can be helpful in predicting the trends.
This year will see vibrant and dynamic shades and apparel patterns which does not have a trace of the previous year. On the contrary, a few other trends emerge, which will pull out old clothes from the back of the closet. Colors themes revolve around jewel tones and tinted neutrals. Natural fabrics like organic cotton in hues of vanilla to a hint of deep blue will be seen. Simultaneously, rich and vivid colors ranging from red, gold, to black with an Eastern influence will also be in fad. Women's wear is filled with darkened decorum and floral patterns. Menswear is getting a feminine makeover in delicate fabrics. Shawl collars, and asymmetrical hems will put a twist on every piece of clothing.
Color Scheme
Apparel colors are more of neutrals. Hues of mineral and stone provide a solid and natural base with solar orange and hot pink. Pink or magenta will be the color of the year. Followed by this will be the combination of black and white. Bordeaux and deep purples will also be seen of fashionable attires. Fuchsia red will be a great shade for cool skin tones. Skits, shirts and day dresses will be seen in bold colors to soft hues. Tunics and dresses will be seen in gorgeous designs and bold colors. Basics like skirts and pants will be in soft neutrals paired with new spring colors.
Related posts: