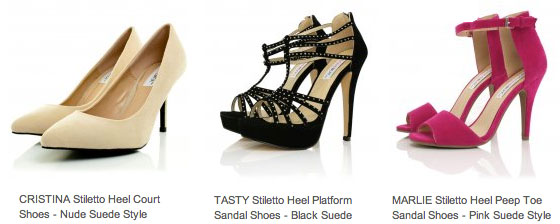 As autumn rolls around, it can be easy to let all the colour, along with soon-to-be-forgotten shorts and vest tops, drain from your wardrobe. However, the new season doesn't have to mean discarding vibrancy in favour of dreariness.
The Pantone Fashion Color Report Fall 2013 proves that autumn doesn't necessarily equate to browns, greys and blacks. When you think of this season, don't the transitional shades of green and the rich oranges and reds of the leaves come to mind?
Reflect the stunning colours nature exhibits during autumn in your clothing for a look that's bang on trend. With a focus on the rich and more vibrant hues, you can ensure your outfits make a statement. Add at least a hint of bright colour into each outfit to avoid getting stuck in a grayscale cycle.
Vivacious pink
The deep fuchsia dubbed Vivacious is sure to get heads turning, and ensure your look is anything but boring in the coming season. It can be hard to wear on large pieces, but can easily be injected into your wardrobe.
Look for this colour splashed across high heels to glam up a little black dress in the evening, pairing with a lipstick in the same hue. In the day, it looks great across a hat, gloves and scarf set – those in cashmere are a particularly good buy. You can look at a variety of high heels at Spy Love Buy.
You can find more tips for wearing bold hues in your outfits here, and discover how to introduce colour pops, which accentuate your best features. Don't be afraid of trying out something new – a fresh look could be just what you need to get out of a style rut.
Dark orange and rich purple
Pantone has picked out a specific shade named Koi, but integrating any dark orange hues into your wardrobe this autumn is a great way to stay on trend. Sheer materials look amazing in this colour, so look out for blouses and skirts in this style for a huge fashion boost.
It also colour blocks well with Acai, a rich purple, to create a retro feel. You can also wear this combination by dressing in one shade and accessorising with the other, so look out for statement pieces of jewellery, shoes and bags.
A spectrum of greens
Greens feature prominently in the autumn fashion colour palette, with major influences from the great outdoors. The top pick for eveningwear is Carafe, a glamorous green-brown mix that will look amazing on a dress worn with gold jewellery.
At the other end of the scale is the yellow-toned Linden Green, a brighter option that will work well in the day. Spy Love Buy has fantastic wellington boots in this shade, which will be perfect for negotiating puddles and mud when you're outside this autumn.
Related posts: