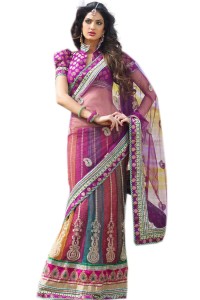 If you are accustomed to wear sarees, you will agree that it is one of the most wonderful attires a woman can have. Sarees are reminiscent of the traditions and culture that have been there for centuries. Styles have come and gone, but the traditional saree will never go out of fashion. Sarees were traditionally worn during ceremonies and weddings, to usher in the flair of Indian tradition and culture. However, these days, sarees have found their way to parties as well. Women of the 21st century would want to try out or experiment a lot with their wardrobe, but when it comes to the saree, they will never deviate from the conventional styles and patterns. Sarees that are worn during parties, tagged as the modern party wear sarees are arguably a bit fancy or flashy, but they surely accentuate the woman wearing it and also grace the occasion.
In the yester years, sarees were sold right at the doorstep by the local saree show owners. This practice remained for quite some time, but women realized that they were paying a high price for the comfort and leisure. So, the trend started to change and gradually women preferred to go to the stores or shopping malls to buy the favourite sarees. Today, most party wear and designer sarees are bought from online saree stores.
Selection of a saree can take a few minutes or it may even take several hours. Women generally would be in a bewildered state when they have to select a saree from a plethora of sarees. It is very important to understand that you need to select a saree that suits your body type. There are some women who buy very expensive sarees, but they are completely ignorant about the body type and the corresponding saree types. Sarees are generally used to cover up flaws in your body; however, there are many women who would use the saree to flaunt their amazing bodies.
If you are overweight, you should avoid selecting cotton or stiff sarees. Instead, you can opt for chiffon or silk sarees that will make you look a bit leaner. Short and heavy ladies, need to avoid sarees that have prints on them. Instead, they can try handloom cotton sarees that will surely add finesse to the body shape.
Although sarees are easily available, you may have to get the blouses stitched by a good tailor. There are some sarees that are readily available with standard blouses. Such sarees may not suit the shape of all women. So, when you are buying sarees from online stores, you will have to do extensive research on the type of blouse that you will be wearing on that saree.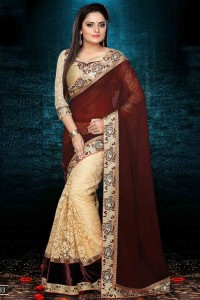 Most parties these days have themes and you are generally requested to wear the attire so that it matches the theme. If there is a Bollywood theme for a party, you can try out some of the best sarees from Zohraa. This is an online store, where you will find several kinds of sarees that suit almost all kinds of occasions.