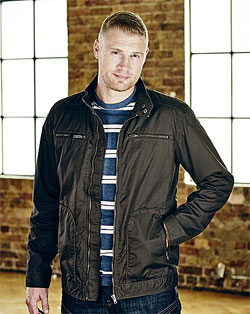 Grey skies and short days have us dreaming of the coming spring, but there's still a whole season of wet weather and probably snow to get through before we can see that longed-for sunshine. If you need to call in some reinforcements for your winter wardrobe, but aren't sure how you can stay stylish through the wet and cold weather, you've come to the right place. Here you'll find our pick of the top three coats for staying dry and cosy in style this season.
The raincoat
In wet weather, it's a no-brainer that a waterproof coat is going to be your best option, but how to pull it off without looking like an off-duty bird watcher? The key is to avoid the more 'hardcore' styles of raincoat and go for something that you could imagine wearing at any other time in the year, like a trench coat. The classic beige trench coat always looks great, but darker colours like black, grey or navy will be more forgiving with stains – especially handy if you plan on jumping in any puddles.
The tweed overcoat
For days when you want to look smart but the weather's not looking promising, a long tweed overcoat is the perfect outerwear item to go for. While not waterproof like the trench coat, the thickness of the tweed fabric and the length of an overcoat will easily keep you warm and dry. A tweed coat also looks great for smart evenings out and work wear, making it the perfect all-rounder.
The Parka jacket
The mod-style parka is a classic of men's fashion, and it's also a great coat to wear in wet weather. Go for the traditional look with a khaki-coloured parka or try out a modern take with a blue or brown parka – there are plenty to choose from in Jacamo's range of men's coats. You can layer up your parka depending on what the weather's like – wearing it over a T-shirt if it's still fairly mild or with a chunky jumper underneath on colder days.
Related posts: