As the awards season wrapped up last night with the Oscars, the ladies of Hollywood did not disappoint with their fashion choices. From more modern to couture looks, check out some of the style favorites. Have a look at some of the best dressed women at the Oscars in 2013.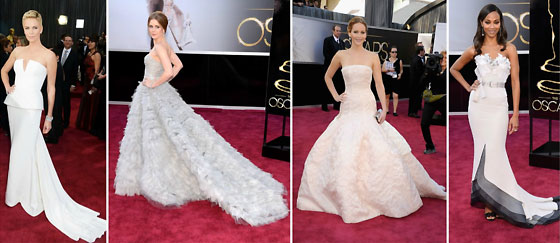 Charlize Theron wearing Dior:
Charlize Theron wore a simple white peplum dress that was absolutely perfect. Her dress didn't have a single wrinkle or imperfection in sight, and it complemented her pixie haircut perfectly. The dress featured an elegant train and a small plunging neckline. Charlize paired her dress with a natural makeup look and simple bracelets. She also wore small diamond earrings that glistened in the light.
Amy Adams wearing Oscar de la Renta:
Amy Adams was wearing a stunning blue gray Oscar de la Renta gown. The dress featured a low sweetheart neckline and a beautiful tulle bottom. Amy's gorgeous natural red hair looked beautiful paired with the shade of the dress, and it was done in a loose up-do with face-framing pieces. She paired the dress with dangly diamond earrings and a natural makeup look.
Jennifer Lawrence wearing Dior Haute Couture:
One of the big winners of the night, Jennifer wore a spectacular gown by Dior Haute Couture. She paired the spectacular dress with pulled-back hair and a gorgeous Chopard necklace. She also paired this gown with a gorgeous handheld clutch, a simple ring and dangly earrings.
Zoe Saldana wearing Alexis Mabillie:
Zoe Saldana was definitely one of the best dressed women at the Oscars, wearing a unique gorgeous white dress with black detailing. Zoe's dress had gorgeous flower embellishments on the chest, and it had black detailing on the bottom train. Zoe paired her dress with a smoky eyeliner and nude lip look. She also accessorized the dress with a white belt, black strappy shoes and several rings. Zoe adorned her ears with gorgeous tear drop earrings that complemented the dress perfectly, and her hair was done in sleek loose waves.
Jennifer Garner wearing Gucci: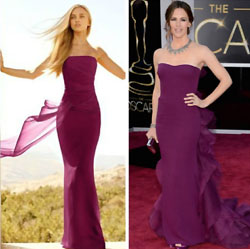 Jennifer Garner definitely turned heads at the 2013 Oscars by wearing a one-of-a-kind purple Gucci gown, created just for her. The fan favorite featured a ruffled train that cascaded perfectly down Garner's back. She paired this purple frock with a laid back yet polished up-do and a spectacular diamond necklace that glistened under the light. She also paired the dress with dangly diamond earrings and gorgeous high heel shoes. Want to get the look for less? Check out this beautiful chiffon dress from the White by Vera Wang Collection available at David's Bridal.
What was your favorite look of the night?
Related posts: