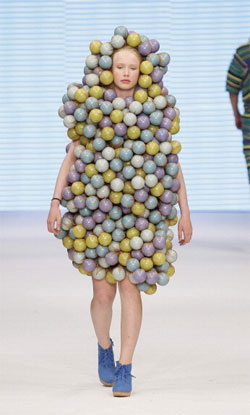 Fashion has been used for centuries to showcase a person's sense of style while making a dramatic statement. While many fashion trends take off and become adapted by the general population, many others fail miserably due to their lack of comfort, attractiveness and sensibility. As the New Year takes off, one can only look back at the fashion failures of 2012 while hoping to never see certain styles come back again. Although many of these failures barely made it off the runway, one cannot help but to wonder what would ever make anyone consider them to be fashionable. Here, are the top five fashion flops of 2012 along with the possible reasons for their sudden demise.
Fake Glasses
Perhaps it was the hipsters who made glasses fashionable again; however, this sometimes-necessary accessory has now been overdone. According to Glamour Magazine, far too many celebrities have taken up this trend, only they have put on the added twist of leaving out the lenses. While no one can debate the fashion options of a designer pair of sunglasses or prescription lenses, wearing a fake pair only seems silly. Instead of drawing attention to one's best features, fake glasses only seem to distract one's attention to the ridiculousness of this trend. This year, let us leave the glasses at home unless they are truly needed. If a person prefers to accessorize, then they should go for a cute scarf or hat that adds an element of style to the outfit.
Slogan T-Shirts
Silly t-shirt sayings have been around for a while, but 2012 seemed to throw them into overdrive. The most frequently worn shirts touted this past year's slogan of "you only live once." Sadly, those who constantly wore these shirts managed to wear the life out of them. Whether this fashion statement failed because of the fact that it consists of wearing a ratty tee or because the slogans were lame, no one can really tell. However, it is time to throw those shirts into the rag bin and start wearing more fashionable options such as the classic black dress. Besides, no one really has the time to read those shirts anyway.
Meggings
Try as one might to avoid this trend, the truth is that it happened as evidenced by this article by CNN. No one is sure where or how meggings came into fashion, but many people in the fashion industry accredit this trend to celebrities, such as Justin Bieber, who wore men's leggings during major performances. Meggings cross the line between genders by offering men a comfortable option for covering their legs; however, many claim that these skin-tight pants leave too little to the imagination. Even when worn beneath a pair of shorts, these pants just did not make sense to the average man. In a world where skinny jeans should be left to a certain few men of small stature, meggings are best left behind in 2012. If one absolutely insists on wearing them, then a more suitable option might be long johns worn beneath regular pants to ward off the cold. No one, not even the Bieber, could justify wearing this major fashion flop in public.

Formal Wear Bra Tops
Women's formal wear is one area where many people challenge current fashion trends by implementing old types of clothing in new ways. One of the biggest trends for 2012 involved celebrities and others who were wearing bedazzled bra tops as a part of their formal gown. Miley Cyrus was one of the main people sporting this trend, and it was unfortunately copied by many other women. Although it may have been innovative, this trend was simply impractical for daily use. Additionally, a carefully placed slit can reveal a sexy hint of skin, but going too far by wearing only a bra veers into the realm of trashy. For 2013, a person can only hope that this trend will be replaced with sexier tweaks that require less going overboard such as a shimmery bra layered beneath a sheer blouse.
Rompers
Although no one can debate the comfort offered by this throwback to the 1970s pantsuit, rompers are best left to young children. In 2012, rompers began to appear in a variety of different styles that ranged from casual to formal wear. They were available in blue jeans, khakis and even silk; however, even the finest of materials could not transform this trend into anything more than a simple fad. Even when worn long, rompers failed to offer anything flattering to a person's figure. Instead, those who donned these duds ended up looking like a child looking for a playground. While rompers may have failed on the runways and for everyday wear, they do hold some hope for future summers. Rompers do have a place as a swimsuit cover-up that can help make one's beach wear suitable for a quick trip to the lake or local store.
Overall, 2012 will be remembered as a year where many current styles first gained their ground. Many great looks, like Monif C's unique and amazing plus sized clothing, are expected to live on into the next year; however, one cannot forget some of the worst fashions of the past year. Meggings, fake glasses and rompers may have had their moment, but they are best relegated to the back of the closet. This way, we can learn from the fashion mistakes of the past while looking forward to this year's hottest trends.