If you've ever been shy about adding color to your life, via your home or wardrobe, you're not alone; lots of us stick to more fail-safe neutrals over vibrant color and pattern for fear of somehow getting it wrong. But sometimes a big shot of color is just the thing you need to reinvigorate your style, so if you're ready to experiment with a new hue, read on for tips to do it right.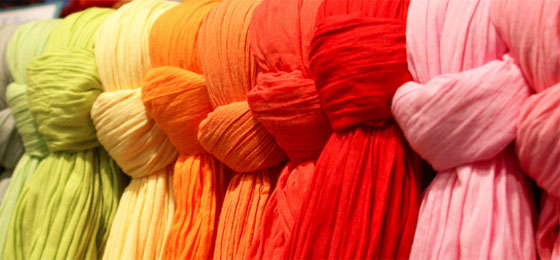 Bold colors in your wardrobe
Beige, black and camel all have their place, but there's nothing quite like a shot of color to make you feel lively and attractive. Using pops of color to highlight the parts of your body is an age-old trick, but it's one that's worth using. A cherry red stripe on a dress can highlight the bust, drawing the eyes up away from hips and legs; conversely, if you want to downplay a large bust, use your bright on your skirt or pants.
But if you really want to dive in, there's nothing like color head to toe to make you stand out (in a good way). If wearing a bright scares you because you just aren't sure how to pair it up, look at the color wheel and add hues that are next to or directly across from it. For example, citrusy hues of yellow and orange always complement each other, but they also pop with shades of blue and teal. You could try these combos via color blocking (with a teal top and orange skirt) or via tasteful accessory matching (a cream dress with yellow and orange jewelry, a yellow bag, and orange shoes to tie it all together).
Sometimes it isn't fear of brights that's quite the problem; it might just be that when you look in the mirror, the colors don't flatter. First, never try on clothes without at least a touch of makeup so you won't look washed out. Next, cycle through lots of different shades and tones, both cool and warm. If bright cool lemon yellows aren't right on you, a warm rich mustard might work better. Brick reds look muddy? Maybe a cheerful tomato is more your hue. Don't let one failed shade turn you away from a color entirely.
Bold colors in your home
Introducing lots of color into the home is a scary prospect; what if it's all too overpowering? The trick is to use colors you love anyway, and then adjust the shades according to the room. For example, if you love emerald green (Pantone's color of the year for 2013!), you might be wondering how you can possibly work it into your house in large doses. This shade works great on walls in a room that sees short bursts of busy traffic, like a breakfast nook or laundry room. On the other hand, if you're decorating a bedroom, try it on bedding and accessory items with a deep complementary wall color, like dove grey, for boldness that won't overpower. Finding the balance will let you use any bold color in your home with confidence.
And what if you've fallen in love with a standout piece and aren't sure how to use it say, a cherry red loveseat for the living room? It's easy to simply plop the item down and make it the sole colorful piece in the room to avoid overwhelming the eye, but this can actually have the undesired effect of dominating the room because everything else looks so bare by comparison.
Instead, add accents around the room in a matching or complementary color; think vases, pillows, candles, and more in a matching shade of red or perhaps a deep blue. Texture is another way to create visual interest to balance a strong focal piece, so use rugs and interesting wall frames in both colors and neutral hues. And when all else fails, remember that graphic black and white pieces are a strong complement to any color, creating a balanced counterpoint without introducing additional bright color.