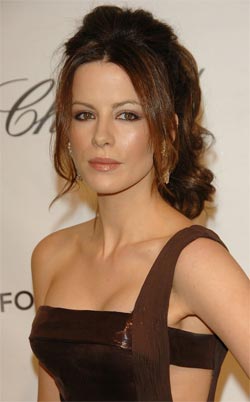 She's one of Britain's most famous beauties, modeling and acting in dozens of films; but now Kate Beckinsale is returning to the type of role she's become most famous for: that of the butt kicking action star, in her new film, 'Total Recall'.
A remake of the 1990 American original, which starred Arnold Schwarzenegger and Sharon Stone, the movie centers around a mild-mannered factory worker (Colin Farrell) who pays a visit to Rekall, a company that can turn your fantasies into memories. Unfortunately, something goes terribly wrong while he's at the center and he discovers that he is actually a spy and his doting wife Lori (Beckinsale) is out to kill him to prevent him from remembering some crucial piece of information. He goes on the run with a beautiful woman (Jessica Biel) but is pursued at every turn by Rekall and Lori.
For Beckinsale, action is nothing new she shot to mainstream fame by playing the leather clad vampire heroine Selene in the 'Underworld' films but she shows off a decidedly different side for cover stories in two new magazines. Beckinsale graces the August covers of both Glamour UK and American Allure, and models some of fall's hottest fashion and make-up looks, all with a decidedly feminine edge. She models smoky eye makeup and dark nails with studded bags, sequined dresses, and big, blown out hair.
And did Beckinsale take naturally to being an action star? Apparently not! Speaking to Allure about throwing her first punch, she confesses, "I remember the look on the stunt coordinator's face when he saw it. It was a look that said, 'Evidently, we have months of work to do here.' " Not that you can tell from watching her on screen! Catch Beckinsale punching to perfection in 'Total Recall' when it opens in the UK on August 29.
Related posts: