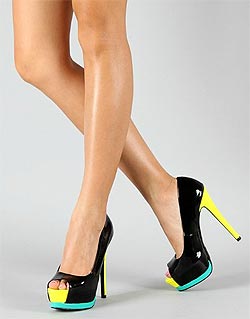 A new survey by foot care brand Compeed has revealed that British women wear the highest heels in Europe, topping even Spain and France. However, the average heel height in the UK probably isn't what you think: it's just 3.3 inches.
Some of Britain's most famous celebrities are known for their staggeringly high heels fashionista Victoria Beckham is known for wearing six-inch heels, even for jaunts through the airport or trips to a sports arena. She even once famously boasted that she couldn't think in flats!
But while Ms. Beckham and her celebrity peers might opt for six-inch (or higher) heels in the name of fashion, the survey shows that many British women may have a more ambitious reason for their choice in footwear. Speaking to the Daily Express, psychologist Emma Kenny explains, "Research has suggested that a tall woman is considered more assertive…and even more intelligent than her shorter peers."
So do those high heels actually help you get ahead at work? "The British woman is an ambitious breed, and if putting on a pair of six-inch heels increases her career prospects, rightly or wrongly, the savvy individual will do so." The high heel rule seems to be working for Victoria Beckham, so it's certainly worth a shot!
In any case, the British certainly ought to know heels: British fashion houses like Alexander McQueen and Stella McCartney are famous choices for celebrities looking for a killer pair of heels to wear to a major event. And who can forget Alexander McQueen's ten-inch armadillo heels?
Compeed's survey shows that within Britain, women in the north east part of the country wear the highest heels, followed by London and then the east part of the country. After Britain, Europe's highest-heeled ladies reside in Spain (3.2 inches), Denmark (three inches), Germany (2.7 inches), and France (2.4 inches).
Related posts: