Winter is coming, which means it is time to switch to a wardrobe comprised of clothes and accessories that will withstand cold temperatures, rain, and snow. Your shoes will switch too, but you don't have to spend the winter in unsightly boots! Here are the options you need in your wardrobe to keep your feet cozy and stylish.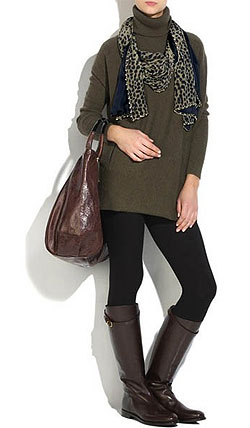 A pair of riding boots. In either brown or black leather, this knee high, flat soled style will keep your tootsies toasty and your legs from getting soaked. Look for a pair with details like buckles or other extras for bonus style points.
An embellished pair of ankle boots. During the day, you can wear them with wider leg pants to hide the details. At night, slip into skinny jeans or a skirt and show off your fab detailed shoes! These can be flat or wedge boots if you prefer, though a high heel makes them extra sexy!
High wedges. Sometimes you want a high heel, but you don't want a stiletto that might stick in soft ground or snow. Whether you choose a basic wedge or a wedge boot, you'll get more stability for your winter walking.
Something colorful and funky. Guess what? One of the easiest ways to chase away the winter blues is with a fab pair of colorful shoes! Colorful patterned boots are hugely popular right now, many with a tribal print. Bright, cheery wedges are also on-trend.
Basic ballet flats. They're the shoes you'll wear while driving to an event or running errands, before you slip into your fabulous high heels. And speaking of which…
Drop dead gorgeous heels. Hello, the holidays are here! Which means you absolutely need a pair of sky high, glittery, feather embellished, or otherwise fantastic high heels. Never mind that they're painful, difficult to walk in, not very warm, and way too expensive; you need them, and that's that!
Related posts: