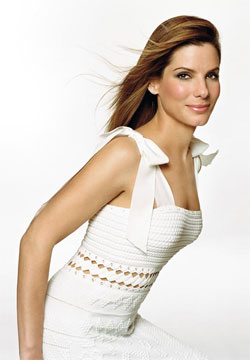 Sandra Bullock is tired of people asking her why she hasn't had a baby yet. The Miss Congeniality actress, who married TV star Jesse James in 2005 and is stepmother to his three children, Chandler, 15, Jesse Jr. 12 and Sunny, five, says she gets frustrated when people ask why she hasn't had children of her own, The Times reported. "It always seems that people want to talk about my uterus. I'm not talking about theirs… Why are they talking about my innards?" Bullock said.
The 44-year-old star said she avoided falling pregnant earlier in her life because she didn't want to be a selfish mother. "I didn't want to have a child without a partner and I loved kids too much to have them right then, because I knew that the minute I have children my life would change. And then I met Jesse and I went, `Wow! There's that feeling of wanting to procreate because I love someone and I see him to be a good father'," the actress said.
Bullock says she enjoys the challenges of looking after her step-children and loves them as if they are her own. "A life is a life. Whether or not it came from your body should be secondary, in my opinion. If tomorrow I got home and went, `Oh my gosh, I'm pregnant,' I'd be like, 'Wow! Isn't the universe amazing?' But what I learnt was that it's being more of a parent to care for a child that's not yours. It's harder," Bullock added.
Related posts: