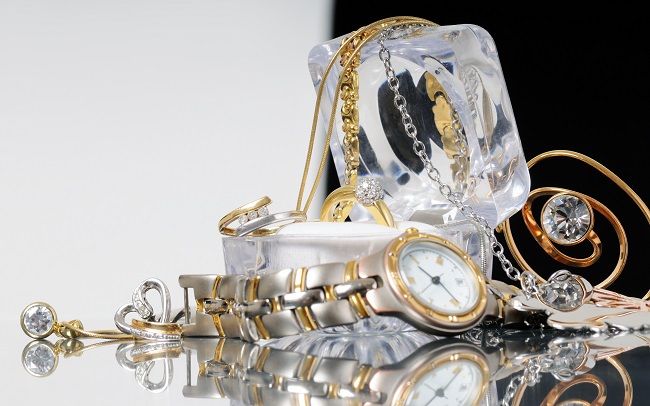 Taking good care of your jewelry can be harder than you think. Not only do you have to make sure that the chemicals you use clean the jewelry thoroughly, but that they're not too strong so as to damage your precious earrings and necklaces. You don't always need to invest in expensive jewelry cleaners. Sometimes you can use everyday household items to restore the luster of your jewelry at a fraction of the cost.
Fizzy Fun
Got some Alka-Seltzer hanging around? The same active ingredients that are designed to help soothe upset stomachs can instantly enhance the natural luster of your jewelry. Get rid of that dull surface on your jewelry by placing it in a fizzy cup of Alka-Seltzer and water for a truly brilliant shine, suggests Reader's Digest.
Aluminum Foil
Line a bowl with foil, fill it with hot water and place one tablespoon of powdered laundry detergent in it. Make sure the detergent doesn't contain bleach. Soak your jewelry for about a minute, then rinse and allow to dry. This chemical process uses an ion exchange that has been getting silverware clean for centuries.
Ammonia and Baking Soda
Give your gold and silver jewelry a bath in a mixture of a half cup ammonia and a cup of lukewarm water for a few minutes, then use a soft clean cloth to dry the items off. Just don't use this method on jewelry containing pearls because it could damage them. Another solution you can't use with pearls is baking soda and water, which could scratch the delicate finish. For all other jewelry, you can remove the tarnish buildup with a paste of a quarter cup baking soda and a couple of tablespoons of water. Buff with a sponge, rinse and dry. Gold jewelry gets the best results if you use vinegar instead of water.
Grab the Bubbly
Got some beer in the fridge? Shine up your gold or silver jewelry by gently rubbing light beer over the surface, then drying with a soft cloth. If your jewelry has gems in it, don't use this method. Instead, try soaking your diamonds, sapphires and rubies in a glass of club soda overnight for a beautiful shine.
Denture Tabs
If you've got denture tabs to clean your dentures, you can use that same product to spruce up your diamond rings. Let them sit in a solution with warm water and soak for five minutes or so. You'll be amazed at the sparkle that results. If your child has a similar product for cleaning his retainer, you can use this in place of denture tabs. These products will remove the layer of dirt and scum that has built up over time.
Dish Soap
If you've got diamond rings and necklaces, you know how dull they can get through everyday wear, building up gunk in the prongs and in tiny spaces. This can occur through the daily use of lotions and soaps. Prepare a bath of mild dish soap and seltzer water or club soda in a bowl, advises Good Housekeeping. Place your jewelry in a strainer, then place the strainer in the bowl. Using a soft toothbrush, gently scrub your jewelry in the solution to get out all the dirt. Rinse under water and pat dry.
Whether you've got affordable crystal jewelry or gold and silver trinkets, try some of these homemade solutions to restore their brilliant sheen without breaking the bank.
This article was contributed on behalf of Saint Christine, your number one choice when buying overseas jewelry. Check out their website today and see how they can help you!