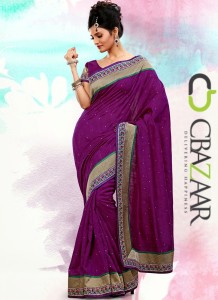 During special occasions like marriage, its not only important for a bride and groom to look great but its also important for the parents, sisters, brothers, cousins, aunt, best friends to look their best during occasions and beautifully get framed in the pictures.
For that picture-perfect event, CBazaar have a huge collection of sarees and lehengas that could make your wedding a day to remember for everyone. Choose from their range of heavy embroidered sarees, suits and gowns for yourself, your family and friends and you'll not regret it
later.
The splendid range covers everyday in woman's life, taking her stylishly through her most cherished moments. When I was looking for online shopping for my marriage, CBazaar was referred to me by one of my friend and as usual I thought it's one of the kind like many other Indian online fashion sites, but later found lot many in it. It provides free shipping all over India, they offer many Bollywood actors designer wears, they offer dresses organized based on occasion add many more of it. Ranging from classic everyday wear to exquisite, elegant party wears, stunning sarees in traditional and contemporary fabrics and charm to every celebration. At CBazaar we will get all in shades with exquisite embellishments and fabrics that promise to make every celebration worth remembering. When our family and friends abroad talked about missing Indian dresses, we always feel we need an online store which provides international shipping at reasonable cost. CBazaar made it easy by bringing international shipping to us that too to many countries all over the world. Now we can order or gift our friends or relatives staying abroad for all the festivals and special occasions. It's very positive thing as people feel connected to India, despite the physical distance.
There are many attractions in the website and one among them is Bollywood designer wears. When we are watching a movie or TV shows, we all definitely feel like buying them what our favorite actors are wearing. And in CBazaar they have bought that dream into effect and have bought those attractive designer wears to us with affordable prices. Not only just the amazing sarees and dresses but also the jewelry, handbags, clutches, etc. Any girl wants to look best in her bridal sarees, and CBazaar's wedding collection is just wow and stands high among leading online collections. I really recommend this online store to all you my blog readers, please visit the website and check yourselves.
CBazaar offers very special option called DIY (Design it yourself). Now we can be our own designers for our dresses. No need to go in search of best tailor in the city and all as we have got an option to be designers. We can easily customize our dresses by choosing fabric, color, embroidery, pattern or style of our outfit and we can participate in designing and making of our outfit by bollywood Vogue's Designers and bestow a pinch of celestial feeling. As this I have tried many dresses, sarees for me and my family I can proudly say it is one of the best site I have came across. The saree was much prettier than the picture and everybody was admiring of my attire as I was wearing matching accessories which was bought from CBazaar itself.
For men, CBazaar offers stylish kurta pajamas, dhotis, sherwanis, mens designer suits and many more. In the website they are organized based on price, occasion, specialty, fabric and art style, so you can save lot of time searching what you exactly want. If we are looking for any specific
dress which our favorite actor wears, we can find those also as CBazaar offer some celebrities dresses. And we can even choose them based on number of days needed for delivery.
I am really awestruck with the collections of kids wear.
Lehengas, Anarkali suits, gowns, salwar suits in velvet, satin, cotton, silk, crushed materials, and netted ones are just too vibrant. It's always amazing dressing up our girl kids and they have lot of options too. But for most of the special occasions we will feel short of dresses for our boy kid. Now CBazaar came for our rescue by offering many traditional wears like dhotis, kurta pyjamas for boys in creative colorful designs.
CBazaar definitely looks like one of the vibrant company offering fashion world in single click. They have great collection, safe packaging and delivery, regular email communications about order status, easy return and refund policy. So what else are we craving for?