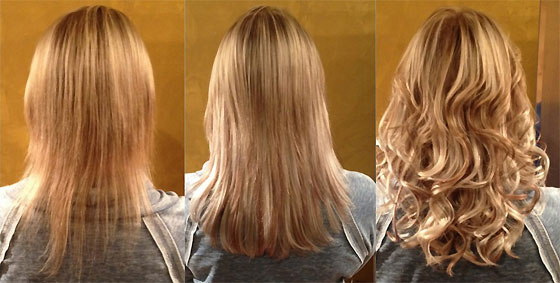 At this point in time hair extensions, like all other forms of artificial beauty enhancement, are no longer a taboo point of discussion. While at one time people might have been embarrassed to admit that they used extensions or "weaves", today many celebrities and regular folks alike happily admit to using hair extensions.
So what exactly do these extensions do? Primarily, they're used to add length to short hair. If you've ever seen a Hollywood actress chop off her locks and emerge a month later with a miraculously longer mane, you're seeing the magic of hair extensions at work. Extensions can also be used to add thickness and body to thin hair.
Extensions are principally woven or glued in, though clip-in pieces offer a temporary solution. The hold and ease of maintenance for your new extensions, as well as the lifespan and the possible damage to existing hair, will vary greatly depending on the adhesion method used at the salon; for this reason, it's important to go over all of your options with your stylist. One of the most important things to remember is that you cannot simply yank out extensions at home; they require proper upkeep and proper removal to avoid damaging your hair and scalp!
Extensions, like wigs, can be crafted of natural human or synthetic hair. As with wigs, there are pros and cons to each choice. If you're buying natural human hair extensions, such as virgin (untreated) hair from Peruvian virgin hair suppliers, then the price of the extension will be higher. The benefit to choosing natural hair extensions is that they can easily be dyed to match your existing hair, and the texture is often much more natural. Human hair extensions can also be heat-styled.
Synthetic extensions are cheaper, but they cannot be dyed and heat-styled like human hair extensions, and they may not look as natural. Ultimately the type of extension that you choose will depend on your budget and how much work you want to put into your hair. If you are keen on curling, straightening and generally styling your hair on a regular basis, you will want to put the extra money into natural extensions so that you can use your favorite hot tools with ease.
If you're just looking for a clip-in extension to add length to a ponytail or to add a streak of color for a night at a club, you may be just fine going with cheaper synthetic hair. Since it's only meant for casual use, as opposed to prolonged wear, you won't have to worry about washing, drying and styling it. And as these hairpieces are either made of colored and clearly artificial strands, or worn in updos where they are blended and held in place with natural hair, it isn't as easy to see whether the piece is made of cheaper synthetic hair. This type of extension is especially popular with brides who want to boost their locks for an intricate updo on their special day, but don't want to go through the hassle and expense of semi-permanent extensions.
Related posts: