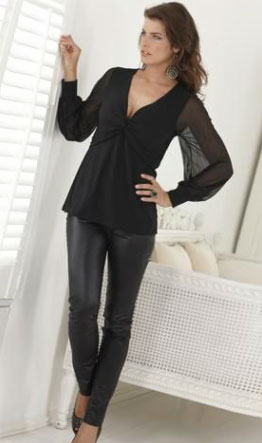 Think jeans are simply for kicking back on the weekend? Think again! Ladies jeans have come a long way from mere casual wear; now, you can find a style of denim for almost any occasion and any day of the week.
Want proof? Check out the wide range of ladies jeans by Marisota, a popular online UK retailer. Here are just a few of the denim styles they offer and how you can work them into your week long wardrobe.
Let's start with regular, slim fit jeans. In black, a pair of slim fitting jeans can work a rocker look with boots and a fedora, or you can pair them with heels and a nice top for a date-appropriate look. This is a very versatile pair that's perfect for those days you only have time to change your shirt and shoes between events say, moving from flats and a tee to an embellished blouse and heels for dinner with a client.
Now let's look at a pair of classic, dark wash, boot-cut jeans. These are a great casual staple, but add a nice blouse, belt, heels, and a fitted blazer, and they can masquerade as part of your work wardrobe. The key is to find jeans with a very dark wash, no whiskering or detailing, and a slim (not tight) trouser cut.
Next, let's look at a pair of slim-fitting colored jeans. Colored denim has been hugely popular this year and will continue to be popular throughout the fall and winter months. Instead of shivering in a skirt on a chilly day, look equally stylish in colored skinny denim paired with ankle booties and a cute top. This look can go out with friends or even on a dinner date.
Finally, let's look at some animal print ladies jeans by Marisota. Printed jeans are all the rage this season, so adding a pair of animal print jeans to your wardrobe is an instant way to look stylish and trendy, without sacrificing comfort. And printed pants are more versatile than you might think! Wear them with solid colored tops and blouses, or go really daring and mix prints for a fierce fashionista edge; add heels to dress them up, or brogues to dress them down.
Related posts: