Choosing the perfect watch is an exciting time. There are many things to consider when carefully selecting the ultimate timepiece. There are some gorgeous watch designs on the market at the moment. Whether you want elegance and sophistication or something a little on the quirky side, you are spoilt for choice.
A watch can make or break an outfit. So, you need to consider what styles you like and how often you will wear your timepiece in order to make it work for you.
Here are some of the key watch styles going into 2015.
All That Glitters Isn't Always Gold
Gold watches have always been associated with luxurious design. But, going into 2015, gold is going on the backburner. If you are keen to be bang on trend this season, why not opt for a delicate rose gold-toned watch. Rose gold has been making all of the right noises this year. Delicate, subtle rose gold tones, coupled with brash whites, are a sure-fire way of looking fabulous and funky in the coming year. Choose a simple bangle style for real elegance. If your look is a little fiercer, then why not choose a link-style bracelet watch? These are great for those that are fans of androgynous look. They are sure to set off every outfit a dream.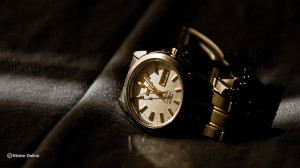 Matte silver is a great look for those who are a more on the bohemian side. Ditch polished bright tones. This season it's all about matte. A chunky, matte silver bracelet watch can complete any look. It can carry you from the office to bar with ease. It's a versatile timepiece that is sure to please.
Luscious Leather
Leather watches are the embodiment of vintage chic. Fresh, quirky and charming a gorgeous leather strapped watch is just the thing for retro babes. More information can be found here. Go for mock-croc in brown and black tones. This is a great way to remain cutting edge, without looking too 'fashionable'.
Of course, for the more daring among us, a bright leather strap is just the answer. Rich reds, navy blue hues and gorgeous purple tones look fabulous when paired with a silver face. You don't have to stick to conventional tones when it comes to choosing a bang on trend watch. The bolder, the better!
Daring and Bold: Innovative Face Design
While many of us are keen to have a circular face, have you considered opting for a square or rectangular face? These look perfect when adorned with tiny gemstones and a classic setting. They can look positively radiant on anyone's wrist. A square face can suit all kinds of women. Whether you have slender wrists, or you are a curvaceous babe, a square face looks fabulous.
Always make sure that you check out the size of a square face on your watch. You don't want the watch to dominate your wrists. Something more slim and chic can look lost on a curvy lady. Likewise, a chunky face can look overpowering on a slender wrist.
Go wild with innovative design and choose the perfect watch to last you a lifetime.