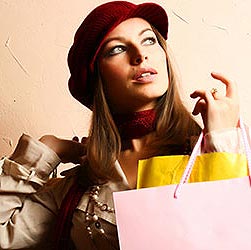 There are lots of good reasons not to hit the mall: the crowds, the driving distance, poor weather, a busy schedule. That's where clothing catalogues swoop in to save the fashion day. Either in traditional print form or online, clothing catalogues offer you a way to shop from the comfort of your home.
Clothing catalogues like Kaleidoscope offer a wide range of fashions for the modern woman, including office-appropriate separates, casual wear, party dresses, jackets, swimwear, intimates, jewelry, shoes, accessories, and more.
The best part about these companies? Many now offer articles in their clothing catalogues (or blogs online) that keep you up-to-date on the latest fashion trends and tricks of the season. For example, at Kaleidoscope, you can read Style Scoop, their style-savvy blog about the latest fashion trends and your everyday style dilemmas.
Shopping from clothing catalogues is a bit different from shopping in a traditional brick-and-mortar store. Since you can't try on the clothes before buying, carefully read the fit/sizing guide and measure yourself so you can choose the proper sizes. Remember, sizes fluctuate widely across brands, and a 2 from one company may be an 8 from another!
You'll also want to read up on the company's shipping policies. Many companies regularly offer promotional discounts on shipping, so it's wise to keep an eye out for these codes to save a bundle on your orders.
Finally, it's important to know the full return policy. How do you return an item if you're not satisfied or the fit is wrong? Is there a time limit? What are the return charges? Know the rules before you submit your order to avoid hassles later on.
Now, fire up that internet browser and have a little fun virtually window shopping!