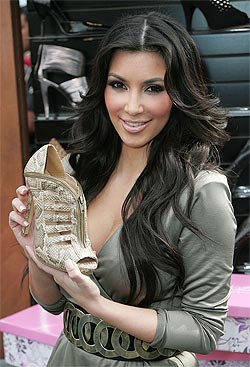 Have you seen the ads for shoe clubs like Shoe Dazzle? Curious about what they offer? Here's the skinnny on the shoes, the memberships, and what you can expect from these "shoe of the month" clubs.
There are three popular shoe clubs on the internet: Shoe Dazzle, Just Fab, and Sole Society. All three operate in a similar fashion: members sign up by taking a short quiz about their fashion personality, which goes to the team of stylists at the site. At the beginning of each month, the member receives a batch of selections of designer-inspired shoes, from which she can pick a pair (or more). Shipping is free.
If the member doesn't see anything she likes, she can ask for a new round of selections. And if she still doesn't see anything she likes, she has until the 5th of the month to decide to "skip" the month to avoid being charged the monthly membership fee, which is $39.95 for both Shoe Dazzle and Just Fab and $49.95 for Sole Society.
So, are these shoe clubs worthwhile? There are pros and cons. Like any other club offer, you have to be carefully read the terms of membership and make sure to opt out of your monthly pair to avoid a charge on your credit card. For the low price, the shoes probably won't be leather, which is off-putting to some but can be great for vegan consumers.
Shoe Dazzle has gotten a lot of press because of its founder, starlet Kim Kardashian, and accordingly, many of the selections are flashy heels better suited to clubbing than everyday life. Just Fab also seems to place an emphasis on heels, though some are slightly more laid-back. Both of these sites would probably work better for a shoe lover who doesn't need to worry about finding pairs that are office-appropriate.
Of the three, Sole Society seems to offer the widest selection of styles, with flats, wedges, and booties thrown in along with the higher heels. So if you're looking for everyday pairs, this might be your best pick.
Check out these sites online: Shoedazzle.com, Justfab.com, and Solesociety.com. Have fun shopping!
Related posts: