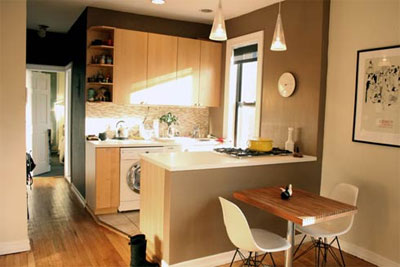 Decorating a small space, such as a studio apartment, can be intimidating. When you have so little room to work with, every item you add counts! Start by choosing a harmonious color scheme to work with, so the room will have a unified feeling, and avoid adding multiple patterns, since so much visual commotion can make a room feel crowded. Choosing a focal point around which to arrange your furniture, a fireplace, or an entertainment center, gives the eye direction, which also enlarges the room.
If your space is really small, buying a few select larger pieces of furniture can be better than filling it with lots of tiny pieces. That's because a room with less furniture in it gives the illusion of having extra floor space, while a room crammed wall to wall with small pieces naturally looks smaller and more crowded. Just be sure the pieces you choose will fit comfortably in your space. Avoid shoving items like chairs snugly into corners, since this reinforces the feeling that there's barely enough space to contain the furniture; instead, pull them out a bit to join the rest of the furniture, or eliminate them altogether.
Clutter makes a room feel instantly smaller, so resist the urge to fill every corner, tabletop, and inch of the walls with display items. Choose just a few favorites for a display that's more pleasing to the eye. It's also important to think about how you can free up more tabletop space, for example, by placing small potted plants into hanging baskets. Group photos into collage frames and hang them to avoid taking up tabletop room with a collection of tiny frames. And mount souvenirs like seashells in shadowboxes, rather than displaying them on a table in a flat basket.
Hanging curtains slightly higher and wider than the window frame visually raises the ceiling and gives the illusion of larger windows, always a bonus. Don't drape the windows in layer after layer of heavy draperies, since this will make the room feel closed off. Also, invest in great lamps: dim lighting makes any space feel small and uninhabitable, no matter how tastefully decorated.