If you want to show the ladies that you are stylish, or if you want your man to look more contemporary, then you've probably at least considered wearing designer underwear. Christmas 4-packs of boxers from a department store were fine when you were a teenager, but as a man women expect you to up your game and invest in some attractive under attire.
Some women agonise about asking their man to invest in high quality underwear. Many men don't understand why this is something that might be important to their partners. If you can afford to treat yourself and your partner then it is well worth considering. There's a reason many men already wear designer underwear. This article should help to give a number of good reasons to wear well-designed underwear over lesser alternatives: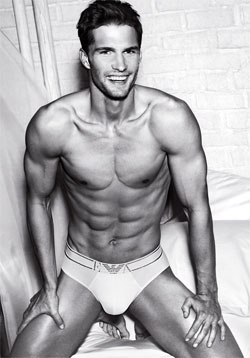 Designer underwear make the body look more attractive – Good underwear is designed to make the most of men's features, making muscles and other things look bigger. It's important to get a good fit to ensure you have the best possible appearance.
They fit more snugly to your body – Designer underwear fits neatly underneath your clothes. Other types of underwear tend to be bunch up around belts and waistlines, which can be visible from the outside, projecting a less than sleek appearance and occasionally resulting in embarrassing underwear-protruding moments.
Comfort – Designer underwear includes luxurious fabrics that are intended to provide the greatest comfort, offering flexibility and softness for those who wear them. If you've never tried wearing high quality underwear then you won't know what he's been missing!
It may seem ironic to spend a lot of time worrying about you wear underneath your clothes; after all, it won't be visible most of the time. In fact, this is the very reason many people spend a lot of time selecting fine underwear. It can't be seen most of the time, so people feel more free to express themselves through their undergarments, even if there is nobody to see it. This way it's a special surprise reserved for special people your life.
There are many different types of designer underwear for men, including boxer shorts, boxer briefs, jockstraps and even the classic "tighty whiteys". Boxer shorts are relatively loose fitting around the hip and thigh, while jockstraps offer physical freedom for sportsmen. Boxer briefs fit more tightly around the waist and groin, while long johns offer additional warmth and comfort in cold weather.
Emporio Armani is one of the top men's underwear brands. Armani briefs are the definition of stylish, luxurious men's underwear, as worn by David Beckham. Other notable brands include Calvin Klein and Diesel. In my research for this article, I found a great online shop called Boxers and Briefs that sell Emporio Armani Boxers here, as well as lots of others. It's good to see a company so focused in its products specialists suppliers really do many shopping much easier.
Avoid funny pants. Many men think they can impress a woman by displaying their great sense of humour on their underwear. It's true that making girls laugh is a great way into their heart, but underwear is the wrong place to try for a laugh. Sophisticated ladies will not be impressed to see a Batman logo or a funny message adorned on boxers or briefs.
Do you like interesting facts and tales about Men's underwear? You must do if you've read to the end of my article. You should take a look at this great article I found on the history of men's underwear.
Related posts: