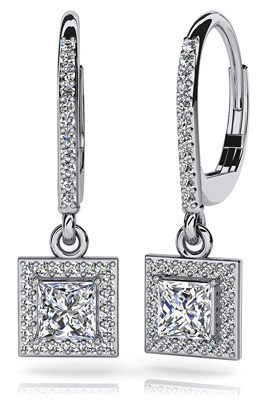 Timeless and beautiful, diamond earrings are one of the most versatile accessories you can add to your wardrobe. Diamond earrings are available in a wide array of styles, and are an enviable addition to any ensemble.
For instance, a lovely sparkling pair of diamond stud earrings will add a touch of class and beauty to almost any outfit, from casual jeans to business attire to the most elegant of evening gowns. Regardless of the style you chose, the key to getting the most beauty and enjoyment from your diamond earrings is to be sure they are properly cared for and kept shining and brilliantly clean.
The first step in caring for diamond earrings is to store them in a jewelry box or organizer when they are not in use. Diamonds can actually scratch each other if they are left loose, so your storage should keep them mounted or otherwise separated.
Next, you should make sure that your diamond earrings are kept clean and free from dirt and debris. The method you use to clean your jewelry will vary slightly, depending on the other stones and metals featured in your jewelry.
Earrings featuring diamonds, untreated precious and semi-precious stones, gold, and platinum should be cleaned using a soft toothbrush and an ammonia-based household cleaner. However, diamond earrings with other metals or resins, pearls, porous stones, or stones with certain treatments may require specialized care and cleaning. Consult with your jeweler before cleaning these items.
You should also bring your diamond earrings to your jeweler on a regular basis, to be professionally cleaned, inspected, and repaired if needed. Your jeweler will probably use an ultrasonic cleaner that will use sound waves to gently remove the smallest dirt and particles. Your settings will be examined to ensure they are holding your stones properly, and adjusted accordingly.
Diamond earrings are easy to care for, and with minimal effort, they will bring you many years of beauty and enjoyment.
Related posts: