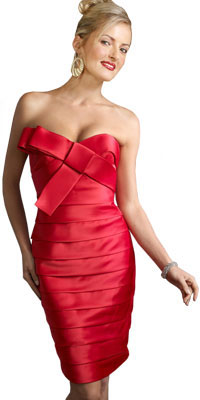 It's time to start thinking about Valentine's Day and what to wear for a romantic date, natch! We typically associate the holiday with the color red, the hue of passion and romance; so why not set the mood with a sultry red dress?
There are tons of options out there. You might choose a strapless mini, a simple sheath, or a trendy one-shoulder ruched number. The hue you choose is up to you obviously, you can find plenty of styles in a classic ruby red, but you can also find everything from bright tomato reds to deep wine reds on the rack.
If you really want to up the ante, try a red lace dress. While it might bring to mind attire better suited to the bedroom, red lace doesn't have to be racy. The trick is to opt for a body-skimming (not skintight) cut with a higher neckline and knee-length hem. A full slip underneath will keep the look appropriate. Try classic silhouettes, like an empire-waist or a long-sleeved sheath, for the perfect blend of sexy and ladylike.
The accessories you choose for a red dress are as important as the dress itself! Look for leg-lengthening nude pumps; black shoes can feel too heavy and dated. A matching nude clutch is an understated pairing for a fiery dress. Keep your jewelry simple, now is not the time to load up on bangles or try a pair of heavy chandelier earrings. Simple studs and a cocktail ring are elegant and understated.
As for your makeup, there's no reason you can't pair red lips with a red dress! Adding red nails can push the look into matchy-matchy territory, though, so opt for a classic nude or blush manicure instead. Remember to add plenty of volumizing mascara for fluttery lashes, and just a hint of blush to warm up your skin! Finish with bouncy bombshell waves or a soft updo, and you'll be ready to melt your valentine's heart.