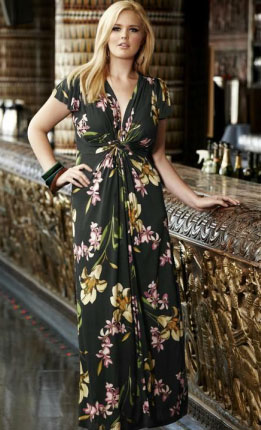 For many ladies the arrival of summer brings the pure joy of shopping for a new season, but for others it can present a series of fashion conundrums, namely how to stay cool, how to stay comfortable, how to look good and how to achieve all three at the same time. For plus-size ladies who are too often told to wear 'flattering' darker shades that can attract the heat, summer can end up a bit of a fashion minefield.
If you're a curvier lady who is sick of sitting in the shade – both literally and through your style choices, it's time to turn up the heat. There are plenty of trends around this summer that look great on girls of all sizes and some that will flaunt fuller silhouettes in particular.
If you're afraid to try new styles because you aren't sure what they'll look like on your figure, try looking at ranges where the clothes are advertised on real women, like the women's clothing at Simply Be. Look at the styles plus-size celebs are papped in too – Kim Kardashian's sister-in-law Kaela Humphries always has fun with what she wears and as a model she's a great role model for plus-size ladies.
Looking at the big trends of summer 2012, for a formal work look, if you've got hips like Ms Hendricks then swing dresses are a great style choice. Pick up designs in lightweight breathable materials and don't be afraid to choose brighter shades. Team with cardigan and kitten heels for a real Mad Men inspired look.
For casual daytime outfits, experiment with pretty floral halter dresses, pastel coloured tunics and long vests featuring some of the season's tropical flower or Aztec prints. Match tunics and vests with straight-legged shorts for maximum comfort, or if you prefer not to flash your pins, wear three-quarter length leggings.