It's a new year, and the folks at Pantone have picked their annual "color of the year".
For 2013: Emerald (17-5641), which Pantone describes as "Lively. Radiant. Lush…a color of elegance and beauty that enhances our sense of well-being, balance, and harmony."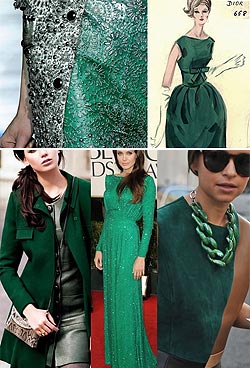 Emerald is a color that is both calming and energizing, and can be worn a number of ways. So without further ado, let's look at how you can wear 2013's hottest color on your clothes, accessories, and even makeup!
As the focal point
The obvious first choice is an emerald green dress, top, or skirt. If you love a big punch of color, you'll be pleased to know that how you style these choices can take your emerald pieces to both a party and the office.
If you're thinking to yourself that you could never make color work-appropriate, remember, the trick is in the cut and the accessories. A modest sheath paired with closed-toe pumps and a sharply tailored blazer can look very work-appropriate indeed. Pair the same dress with bold jewelry and stiletto heels and you're ready for a dinner date.
On accessories
If you're not ready to jump into the emerald color trend with a new piece of clothing, try it on accessories. Items like scarves, shoes, handbags, and jewelry will always be the easiest way to dip into a bold color trend without too much commitment, and usually without too much expense. An emerald scarf is just the thing to ward off a chill, while a clutch offers a graphic pop of color that won't overwhelm a timid wearer.
Beauty
Emerald is hot in the beauty world, too. A tip, though: when it comes to bold makeup colors, balance is everything. If you're interested in bold emerald eyeshadow, tone down your blush and lipstick. And if you're going to wear emerald nail polish, keep nails short and filed neatly, or your trendy tips will look like claws. The trendy way to wear bold color now: match your nails to a swipe of colored eyeliner.
What colors to wear with emerald
One of the biggest issues for those new to the world of vibrant color is how to pair their colorful pieces accordingly with other colors and neutrals. Resist the urge to wear your emerald pieces with black; it looks okay but it's very expected and blah. Instead, try using camel or dove grey as neutrals. Surprisingly, cheetah print also works as a neutral with this color!
If you're really feeling daring, pair emerald with colors like tangerine, poppy pink, cobalt blue, lavender, and other shades of green. The only color you really want to avoid outright is red, which can lend a Christmas vibe to your outfit. Otherwise, there's almost no color in the spectrum that can't pair with emerald green, so use your imagination and play around with the items in your closet.
Hue on hue is the new colorblocking
Colorblocking was hot in 2012, but in 2013, it's all about hue on hue dressing. So don't be afraid to pair your emerald clothes and accessories with other items in complimentary shades of green. Lime, mint, and deep forest green can all help sway emerald into different moods: funky, relaxed, or business-like.
If straight green on green sounds like too much, try colors that are very similar, like citrus hues of lemon and lime, or shades of blue and turquoise. This helps you stay on the cool side of the color wheel, which has a unifying effect on your outfit, but lets you play around with the colors enough that you won't feel too monochromatic.
Related posts: