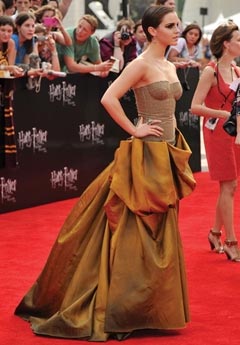 Emma Watson is one of the hottest young actresses in the industry, having made a name for herself in the 'Harry Potter' movie franchise and now graduating to more serious adult roles. But the 22-year-old actress admits in a new interview that while she's the red carpet envy of fashionistas worldwide, she hasn't always felt comfortable with her looks.
In the interview with Britain's Glamour magazine, in which Watson shows off her smoldering fashion sense in frocks by designers like Zac Posen, the actress says that it took years for her to accept her figure. She stated, 'I've accepted my body shape more as I've got older. I went through a stage of wanting to have that straight up and down model look, but I have curves and hips, and in the end you have to accept yourself as you are.'
Watson is famous for modeling smashing minidresses from the hottest designers, but she adds: 'My weight has fluctuated between a size 6 and a 10… I keep telling myself that I'm a human being, an imperfect human being who's not made to look like a doll, and that who I am as a person is more important than whether at that moment I have a nice figure.'
And while Watson herself is known for looking flawless on the red carpet, from her hair to her makeup to her clothes, she doesn't believe in setting the bar to high. She added, 'It makes me sad to hear girls constantly putting themselves down… We say that the pressure is coming from men but actually it's from each other. I think women feel so much pressure these days and it can turn us against each other. But we really damage our own confidence when we put ourselves down, so I try not to.'
Sounds like words of wisdom from a girl who admits she likes "deep thinkers" and that she doesn't like to settle for second best in a relationship. (She's currently dating American student Will Adamowicz.) As for her favorite fashions? It must be a tough pick she's often seen in labels like Burberry, Valentino, and Marchesa but she names a white Alexander McQueen gown that she wore in 2008 to the Empire Awards as one of her all-time favorites.
You can see Watson's photo shoot and read the full article in the October issue of Glamour, which hits newsstands on Thursday.
Related posts: