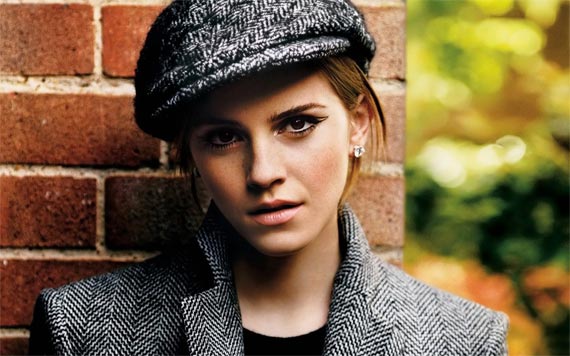 Emma Watson is a style darling, but she has some not-so-flattering words for the fashion industry. Speaking to The Guardian, the 23-year-old actress talked about the negative side of the fashion and beauty industry and its effect on young women, saying, "As a younger woman, that pressure got me down, but I've made my peace with it. With airbrushing and digital manipulation, fashion can project an unobtainable image that's dangerously unhealthy. I'm excited about the ageing process. I'm more interested in women who aren't perfect. They're more compelling."
Watson is currently on a press run for Noah, Darren Arnofsky's blockbuster epic about the Biblical flood and the famous ark. She also graces the April 2014 cover of Elle magazine, with sultry cat eyes and windswept hair. She shows off a variety of high-fashion looks in her photoshoot, including a denim jumpsuit from Balmain, a plunging Anthony Vaccarello swimsuit, and a Rodarte crystal-beaded top and printed denim, embossed snakeskin, and silk shorts.
While Watson seems to glide through her roles and her high-fashion red carpet runs with ease, she admits that, surprisingly enough, she has considered leaving the acting profession altogether. She says that it was especially hard for her to grow up in the public eye with the Harry Potter franchise, which left her struggling to form a personal identity off-screen. "I remember reading this thing that Elizabeth Taylor wrote. She had her first kiss in character. On a movie set. It really struck me. I don't know how or why, but I had this sense that if I wasn't really careful, that could be me," she shares. "That my first kiss could be in somebody else's clothes. And my experiences could all belong to someone else.
"There are all these actresses who have emerged in the last year or two, and they get to emerge as this complete human being. And I'm so jealous!"
Still, Watson seems to have done a good job crafting a private life outside of the film world: she chose to go to college, attending Brown University and then Oxford University. She's also had a healthy off-screen love life, most recently being linked to Oxford rugby player Matt Janney, though she says that she doesn't date famous people, preferring not to mix the private and the public sides of her life too much.
Perhaps another tricky part of her transition has been snagging adult film roles in a world that still largely remembers her as Hermione Granger. She explains, "In my downtime I don't sex myself up much. Sometimes I have a hard time convincing directors that I can play more adult roles."
That said, Watson seems to be enjoying the ride. She continues to rule the red carpet, showing up in designs by Balmain, Chanel, Burberry, Oscar De La Renta and Christian Dior. And she seems to have made peace with balancing her film roles with university life. She says that her fame initially made university life at Brown a bit difficult, but she didn't want to lether celebrity keep her from the fun of regular student life. "I had to say to myself, 'It's ok, you can do this.' You just have to take a deep breath and gather your courage. I have moments where I will walk into a bar and it will take me making a joke to put people at ease, to realize I am just a girl."
Related posts: