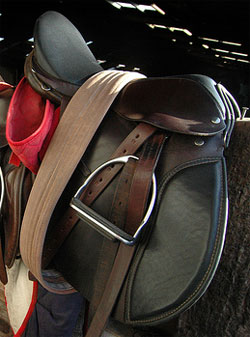 The equestrian inspired trends of 2012 do not seem to have finished their domination on the mainstream fashion world. 2013 is opening its doors to the latest fashion styles, and it seems we are in for more leather, tweed and jodhpurs.
With the Summer Olympics wowing everyone who watched, it was the equestrian athletes that shone in the style stakes. The Dressage event that was surprisingly addictive to watch saw the competitors turned out to perfection with fitted blue blazers and crisp white jodhpurs, and were hands-down the best dressed of the entire Olympics.
Their attire was the icing on the cake of the events; quintessentially British and exactly on trend. Equestrian-inspired clothing accentuates the womanly figure with synched-in waists and tailored fits. Even fashion giants such as Ralph Lauren are adding waist-defining jackets and suede elbow patches to their spring 2013 collections.
This year will see the equestrian world and mainstream fashion world marry together well, with many trends lending more to a western theme with cotton blouses and leather trimmed jeans. It is the saviour for all women who struggle to remain graceful in high heels as this trend is forgiving in its comfort and practicality.
Even hit American TV drama, Mad Men, is getting in on the equestrian fashion with the gorgeous January Jones showing off 60s styling that would work as well today as it did then. Timeless.
The top fashion investment to make this year is a pair of riding boots. This item can be used for casual wear as well as dressing things up a bit and is the ultimate statement in equestrian glam. Perhaps costing a little more than your usual boot purchase, it is imperative that you spend your money well on a style that is timely yet also has the timeless quality to be resurfaced year after year.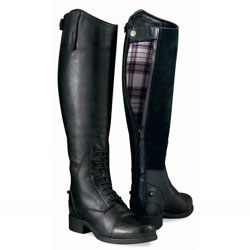 One of our riding boot favourites comes from leading equestrian apparel brand, Ariat and is available through Houghton Country. These Ariat boots have glossy black leather and peekaboo plaid lining through a zip at the back. As a long boot they are waterproof and insulated for ultimate protection and comfort, whether you take them with you while riding, or get caught in a rain storm while out shopping.
The equestrian trend is here to stay and for good reason. It is a fashionable twist on traditional styles and flatters every figure with its forgiving materials and excellent fit. So whether you opt for riding boots, a fitted blazer or go all out in something tweed with suede patches, this season's trends fully support you.