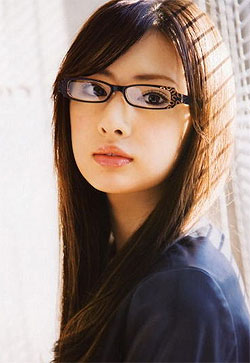 Got glasses? Stumped on how to fix your eye makeup? It can be tough to balance your makeup with a trendy pair of frames, and since most tutorials don't include variations for the bespectacled, girls with glasses often throw up their hands and avoid the makeup altogether. Before you toss your mascara wand, here are some tips for getting gorgeous eyes under those glasses!
1. Remember, your eyes are under a magnifying lens so any blunders are going to be highlighted. Sticking to neutral colors and classic formulas (no major mascara) offers you a surefire route to fabulous. And if you want to do smoky eyes, use soft browns with a bit of shimmer at the inner corners, since grays and blacks can make your eyes look closed up under your glasses.
2. Don't be afraid of bold color! Colorful eyeliner is a safer way to try out the Crayola eye makeup trend, but that doesn't mean you have to skip colorful shadow. Just focus it in the crease, where it will count, and blend at the edges with a neutral.
3. Depending on your prescription, your glasses can make your eyes look smaller (nearsighted) or larger (farsighted). How you feel about that depends on what you thought of your eyes to begin with, so if you find that the visual size change bothers you, eyeliner is the surest way to fix it. Lining the inner rims with a champagne pencil brightens and widens the eyes, while using a bit of brownish-black liner can make them look smaller.
4. Don't skip the mascara! Curl your lashes and use a thickening (not lengthening) formula for lush lashes that won't smush against your lenses. If you're worried about the magnifying factor, try on your glasses in between coats to see how your lashes look at each stage.
5. Don't forget your brows! Make sure they're well-groomed and filled in, since your frames will only draw more attention to the area.
Related posts: