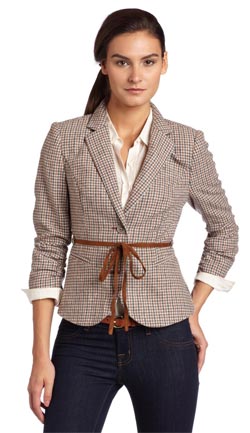 There are several new fashion collections hitting stores this fall that promise to bring you celeb-inspired looks for less as well as high-end designers unveiling less-pricey versions of their celeb-approved lines. Here are five major launches of fall 2011 and what you can expect from each:
1.The fall collection from LC Lauren Conrad for Kohl's is available in stores and many of the pieces are already on sale (like a $70 blazer for $45). It's a wearable, girly, youthful (but not too trendy) mix of dresses, separates, shoes, and accessories that could easily move from the workweek to the weekend. All of the pieces are under $100, and new styles will continue to roll in through September and October.
2. Also at Kohl's is the new collection from Jennifer Lopez, launching September 7th and inspired by her glamourous Hollywood style. The apparel, accesories, and home goods are all under $200 and include sexy staples like platform pumps, minidresses, and luxe-looking handbags. New pieces will continue to arrive all fall.
3. The Kardashian Kollection from Sears is the work of Kourtney, Kim, and Khloe, and includes apparel and accessories. Already available online, the collection offers party-ready minis; a few separates and office-ready pieces; glitzy, chunky jewelry; and a few black handbags and shoes. Most of the pieces are well under $100, so if you want to shop their style on a budget, this is a good place to start.
4. Brian Atwood whose pricey footwear is well-loved by celebs like Olivia Wilde and Mila Kunis brings a lower-priced line of shoes to Saks Fith Avenue, with sexy pumps, strappy sandals, and fall boots for $200 to $600. It's all available now at www.saksfifthavenue.com.
5. Celebrity Stylist Rachel Zoe known for dressing stars like Nicole Richie brings her boho-chic glamour to Saks Fifth Avenue. Most of the items are in the $150 to $500 range, with a few running as high as $1000. The enormous collection is live online and includes a great mix of pieces for work and play, many of which will make great multi-season investments.