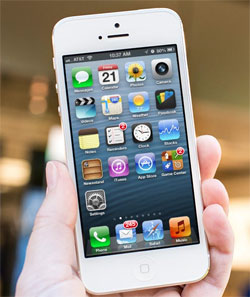 The internet has revolutionised Fashion and the way we receive it as normal shoppers thanks to the Fashion App, which is becoming a vital part of every shopper's armoury. Photos and footage from the exclusive Fashion Weeks and fashion shows from around the world can now be accessed from our new apple iPhone handsets in a movement that could really democratise how we receive and interpret fashion trends. The flow of information from catwalk to consumer is now much more complete allowing you to be right on the cutting edge of style.
Apps like Trendstop allow us to take a look at New York, London and Milan's renowned fashion weeks along with an array of shows from around the world. We can see how some of the best designers in the world interpret 'style' and look out for which high street stores are stealing a march on their rivals. Some shopping apps merely direct you to a cumbersome website, but those of All Saints and Next actually package their wares on a slick app well worth a look. POPSUGAR allows us to look through a range of high street shops in what could be described as a virtual mall.
To illustrate the scope of the modern fashion app, you should take a look at Touch Closet. It allows you to get down to the logistics of your wardrobe and build all of your clothes into an online inventory to share, peruse, and combine outfits at your pleasure with your own clothes. Fashion is a statement about who we are and our outlook on life, so to have our clothes ready to share visually on our iPhones could be a real thrill. Not to mention that the must have accessory for several years running the iPhone is now reasonably priced at Phones4U.
StyleCaster represents another side of the industry with a series of intriguing blogs about style, shopping and celebrity all aspects of the greater whole. The fashion app may convince many fashionistas of the value of the iPhone, and we can interpret styles and refine our original look more than ever due to the sheer availability of garments and information available.