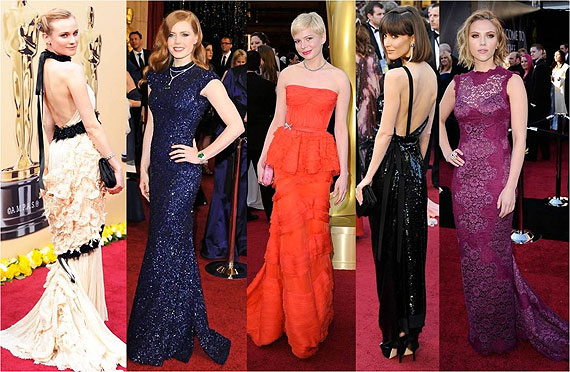 For fashion buffs, one of the most anticipated nights of the year is almost here: the Academy Awards are one of the most talked-about events in the fashion world, as designers jockey to dress rising stars and everyone tunes in to see the good, the bad and the really ugly on the red carpet.
This year figure skating stars Tara Lipinski and Johnny Weir will be on hand to judge the Oscar night fashions as they join Access Hollywood on the red carpet. They'll be joining correspondents Billy Bush, Shaun Robinson, Liz Hernandez and Louise Roe to offer colorful commentary on the styles of the stars. Explains Weir, "There is no time that LA shines brighter than during the Oscars and I hope to bring my own special brand of sparkle to the broadcast." The show kicks off at 4 PM Pacific time so Lipinski and Weir will be on the red carpet from early in the afternoon as the nominees and other celebrities arrive.
However, that's assuming the ceremony isn't rained out. A heavy rain storm on Friday soaked the red carpet rolled out on Hollywood Boulevard, forcing work crews to rush to secure the carpet and unclog overflowing storm drains less than 48 hours before the ceremony is due to begin. With the rain not expected to let up until Sunday morning, the nominees may be tiptoeing down the red carpet to avoid ruining their designer stilettos!
The guessing game of who will dress whom is almost as exciting as the award nominations. It's an honor for a designer (especially a young one) to dress an up and coming star, and of course this year everyone will be clamoring to see which designer is lucky enough to dress Lupita Nyong'o. The breakout star of 12 Years A Slave has previously wowed in Ralph Lauren, Gucci, Prada and J. Mendel, and she's the new face of Miu Miu, so almost anything is possible.
Other actresses whose choices are keeping us in suspense: Cate Blanchett, known for taking risks; Jennifer Lawrence, still America's Sweetheart; and Amy Adams, who has a tendency to try the unexpected (a red dress on a redhead! Down-to-there cleavage!) and pull it off like a master.
No doubt the pressure to kook amazing on Oscars night would drive some actresses to the brink, but for Shameless actress Emmy Rossum, it's no-sweat. The 27-year-old recently shared her secret for surviving the critical world of Oscar after-parties: "I feel really good about my choice so far. I don't care about [fashion critics]. I just pick something that makes me feel good and if nobody else like it then there's always next year."
In any case, lest any actress fret too much, she can always compare her choice to previous "worst-dressed" gems like Celine Dion's backwards white tuxedo from 1999 or Bjork's swan dress from 2001. Even after years and years of tacky, "what were they thinking?" fashions, these two continue to pop up on worst-dressed Oscars lists every February.
Related posts: