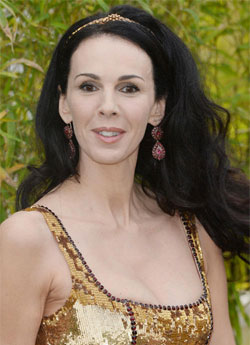 Fashion designer L'Wren Scott was found dead in her Manhattan apartment Monday morning of an apparent suicide; she was 49. The designer became known as a Hollywood stylist before launching her own red carpet designs under the Little Black Dress label; she dressed women such as actress Nicole Kidman and First Lady of the United States Michelle Obama.
Following her death, rumors have swirled that Scott had recently split with longtime love Mick Jagger, but Jagger's publicist called the reports "a horrible and inaccurate piece of gossip during this very tragic time". A rep for the Rolling Stones later announced that the star was canceling a scheduled concert in Perth, Australia in the wake of Scott's death.
Following Scott's death, a bit of a media firestorm sprang up as news outlets announced the death of "Mick Jagger's girlfriend" rather than using Scott's name in their headlines. The New York Times Style Section sent out a cringe-worthy Tweet reading, "Mick Jagger's Girlfriend Found Dead, Official Says." Outraged fans demanded to know why Scott had been reduced to a rock star's girlfriend rather than being recognized for her own hard work and level of fame.
Scott herself seemed to struggle with the fame of dating Jagger, and once opened up about it, saying, "I don't court that life. I'd rather be a worker bee…I'm a fashion designer. I don't want to be defined as someone's girlfriend. You always wonder if people will pay attention to the hard work that goes into what you do. And when you're taking on something on your own, it's your company, your investment – your life."
Whether or not Scott had personal problems on her mind, she certainly had professional woes: at the time of her death her business was several million dollars in the red. Scott was reportedly too proud to ask Jagger for financial help with her business, despite the fact that her love is worth an estimated $305 million-more than enough to bail her out.
Instead Scott was struggling privately with the thought of losing everything she had worked so hard to build up; she had apparently planned to announce the closing of her business on Wednesday but was devastated by the thought of looking like a failure, according to sources who knew her. "L'Wren really felt the pressure to succeed and having to be something all the time until, I guess, she couldn't fake it anymore," said one source. "She didn't know who to trust anymore."
Related posts: