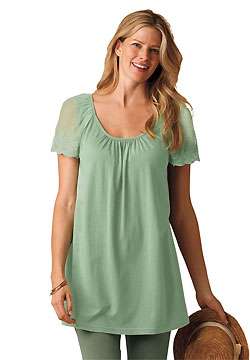 Last season's bold, vibrant primary colors have given way to a softer palette of pastel colors for spring. While there are still some very vibrant colors in play this season, like orange and hot pink, the overall trend is toward softer, spring-appropriate shades of your favorite colors.
Pulling off pastels can be tricky business, especially when we tend to associate these shades with Easter eggs and baby blankets. But with a few easy tricks, you can make pastels look grown-up and trendy.
Trick #1: Use structured silhouettes. The easiest way to balance something soft and girly, whether it's ruffles or a pastel color, is to add something structured to the mix. It could be a pair of classic pumps and a scoop-neck tee with a pastel skirt, or a boxy bag in a pastel hue. This keeps things business-like, so the pastel shades don't overwhelm your look.
Trick #2: Mix feminine and masculine. Just like you toughen up your favorite sundress with a biker jacket, pastel colors get a dose of grown-up chic when paired with more masculine elements. A ruffled mint green blouse with a biker jacket, or a lavender bag with jeans and a tee, offers just the right dose of pastel power without crossing into Easter dress territory.
Trick #3: Add brights. You don't have to save your pastels for the neutrals in your closet: one of the freshest ways to wear pastel colors is with other, brighter colors! Think mint green and hot pink, or lavender with yellow. Have fun experimenting!
Trick #4: Grab pastel accessories. It's one of the oldest and easiest ways to try out a trend, and for good reason: you can't go wrong with a small dose of a trend. Pair a pastel-hued clutch, shoes, or scarf with any outfit to add an instant dose of up-to-date flair.